Yesterday history was made AGAIN!!!! 4 years ago President Barack Obama made history as the first African American President of the United States, and last night he did it again by getting reelected in what some saw as an unexpected victory!!
For me, this years election was completely different than four years ago. Back then I was in college watching the results in a dorm with my friends, however, this time around I was at work directing our local newscast. Back then when we found out he won my friends and I ran out screaming onto the courtyard with the rest of our classmates, then took off running to the other side of campus screaming Young Jeezy's "My President is Black"!! lol!
This year I was in a mixed crowd at work that included conservative republicans, plus I was at work so no screaming over here! lol! I just remember my boss calling over the intercom "GO TO NETWORK NOW!!!" (meaning go to National NBC) & there it was!! Around 11:12pm NBC announced President Barack Obama, the 44th President of the United States, was reelected into office with 274 electoral votes!!! He nabbed Ohio & it was all over!
Follow them @brk_dwn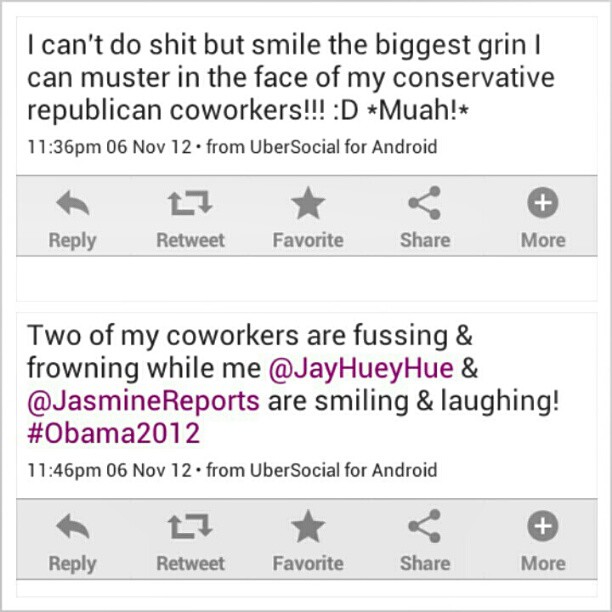 (I'm kind of a sore winner. lol! OH WELL!!!)
I'm so happy he won & even happier it's over!! Plus now with a democratic majority in the Senate HOPEFULLY he won't have as much of a struggle creating the change he promised in 2008! If you missed his speech, check out below
Congratulations President Barack Obama!!!
I'm proud to say I voted for you & I believe in what you can do for this nation! You represent the new American dream, one that many now see can be achieved no matter the color of your skin, whether or not you were raised in a 2 parent home, the neighborhood you grew up in, or the amount of income your family has. You truly see us as one nation of all!