Saw this on IG & figured I'd share my thoughts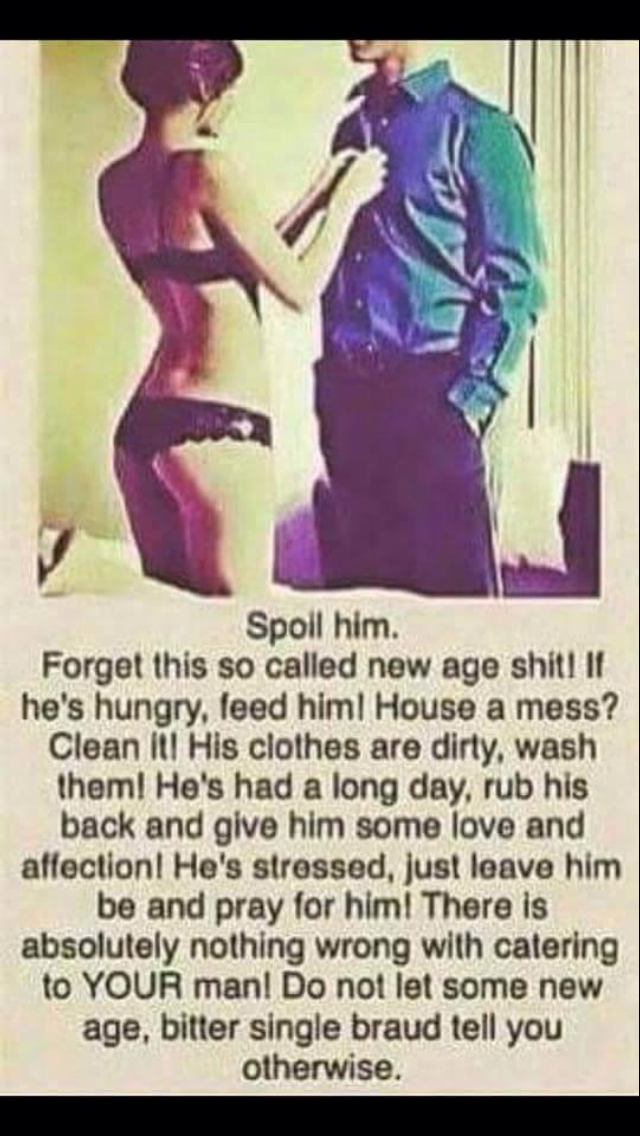 Aside from the typos I think the post is valid. I agree with being your partner's source of solace not stress. I sing every lyric of Destiny's Child's "Cater To You". I'm the girl that knows she's gonna spoil her husband & he is gonna thank sweet baby Jesus everyday & night to have found a catch like me!
However, there's always that sneaking thought that what you do is will never be good enough: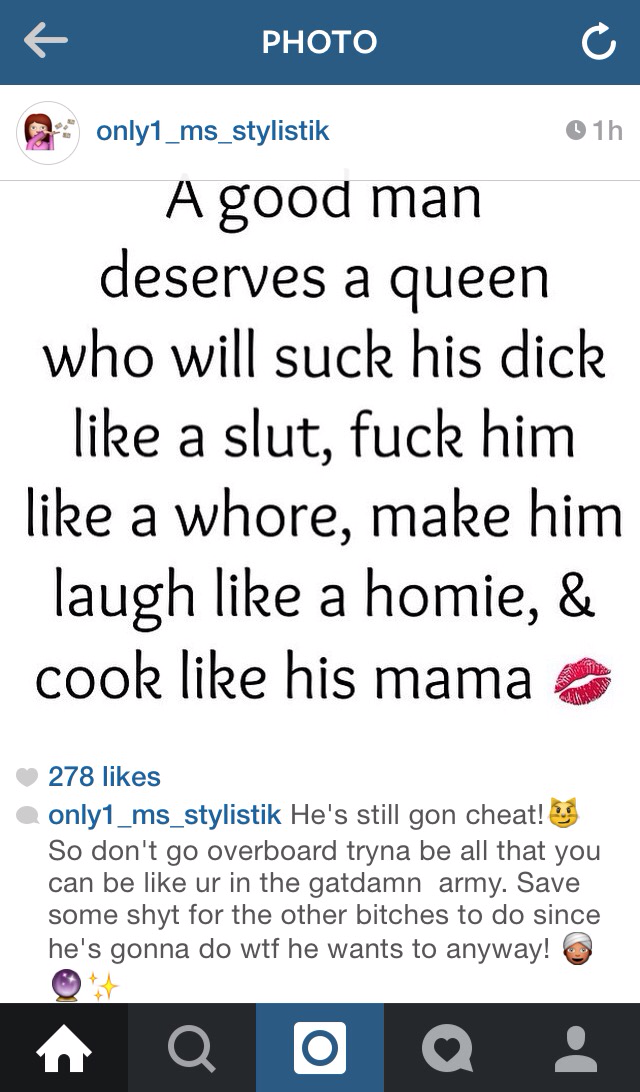 Yeah… lol! I'm not to the extreme mindset of @Only1_Ms_Stylisk but sometimes, yeah! You can believe you're in this great relationship & things are picture perfect but in reality he's out here slanging his wang to every Jill, Dawn & Nancy on the street!
So how do you determine if your man is good enough that deserves to be treated like a king?
The answer is simple: he will show you!
Of course that's easier said than done. When you first get in a relationship people show you what they want you to see, so he's gonna be prince charming -and you'll put on your best act as well. You haven't seen the real him so why would you spoil him with your best sex (or any sex for that matter), breakfast in bed, massages, home cooked meals, etc? Not saying you can't do any of that for him but damn, you don't hafta put all your cards on the table so soon! And I know it's hard, especially when he's showing you everything you've been wanting! Trust me I've been there, I've been that girl! I was all about playing wifey thinking if I show him what I all I can be for him upfront he's gonna want to hold on to me even more! Nah! Majority of the time they just enjoyed the cow & the milk that they got for free & moved on to the next girl. Smh.
There are benefits to that though. As time went on those same guys ended up wanting that ol thing back but by then I had come to my senses and moved on! You snooze you lose! I've since learned  that while having an ex come crawling back feels pretty nice, not wasting my time on f**k boys in the first place would have saved me so much head & heart aches. I didn't let those relationships ruin me as a "good woman", I've been screwed over plenty of times (& put up with the bs that eventually got me screwed over) but I'm not gonna take that out on the next man.
So how do you determine what he deserves? Let him earn that spot in your life! Every person in any type of relationship you have will show you what position they deserve in your life. Pay attention to that & react accordingly.