Now the season is changing, be sure to exfoliate your body. Your body has probably been on show for most of the Summer and now it's going to be covered up in the colder weather. Don't think that because it's now covered up, you don't have to exfoliate! Exfoliation isn't just about summertime. Your skin needs pampering all year round!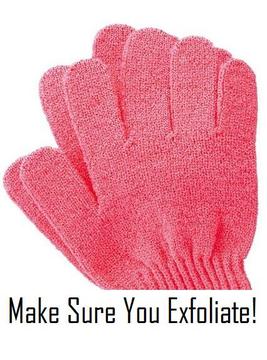 Exfoliating your body is very beneficial to you and your skin. Here are the main benefits:
It relieves dry /rough skin
You can get a closer shave
Your skin looks healthier
It unclogs your pores
Removes dead skin cells
Prevents your skin from breaking out into spots
Make your skin extra smooth and soft
Evens out our skin tone
Helps you apply your lotion evenly and therefore the lotion will be more effective
Also helps if you apply fake tan and prevents streaks
Try to exfoliate in the shower/bath at least once a week but don't overdo it… this can cause irritation and dry skin.
Exfoliating is easier with the right products. Get yourself a lovely body scrub and some gloves.
With the benefits in mind, ensure that you stay exfoliated!