Having a few beauty items in your handbag can help to keep you fresh throughout the day. If you've got a small bag then you'll only want to carry the essentials around with you. If you're unsure as to what key items to carry with you, consider these following products.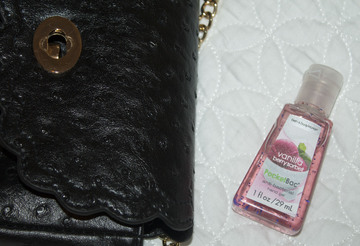 Hand sanitizer
This is a practical item to have, especially during the winter months. It will keep your hands clean and germ free. It's also handy for cleaning up any beauty bits. Bath and Body Works have some luscious mini sanitizers that come in a range of delicious scents, and they fit into your handbag too.
A powder compact
If you have oily skin, a powder compact is a must have. It will help to refresh your makeup and hide any oil coming through your base makeup. Try using a pressed product like Clinique Stay Matte Sheer Pressed Powder, which has a sponge for easy application.
A lipstick
If you want a quick update to your makeup look, applying lipstick will make a difference. It's also ideal for changing up your makeup before after work drinks, or if you are heading out to dinner straight from work. Try YSL Volupte Sheer Candy, a glossy sheer color that's highly wearable. Alternatively, opt for Sephora Luster Matte Lip Color for a long lasting lip shade.
Fragrance
A fragrance will keep you smelling great throughout the day. You don't need to carry around a large bottle of perfume. Instead, use a rollerball or travel size version, such as Marc Jacobs Daisy Eau So Fresh Rollerball.
A nail file
Having a nail file in your bag will help during any nail breakage emergencies. Daimancel Mini Nail File is the perfect size to fit into any handbag.
A facial mist
If you have a spacious handbag, a facial mist makes a great addition. When the weather is hot and humid, using a facial mist will keep your skin feeling cool and fresh. First Aid Beauty Vitamin Hydrating Mist has an alcohol free formula, so it won't dry your skin out. It will energize your complexion, and it can also be used to set your makeup. Evian Facial Spray is also a convenient facial mist to have, refreshing your skin from heat or dry air, as well as keeping your makeup looking fresh.
A hair brush
If you are going to get caught in the rain, wind, or even heat, a hair brush is a must have tool in your handbag. The Sephora Luxe Combo Travel Brush won't take up much space in your bag, and it'll smooth your hair in a minute.
A lip balm
If you're suffering from a cold, or your skin becomes affected by the weather easily, a lip balm is the perfect solution. An effective balm will nourish, protect and soothe any dryness. The Fresh Sugar Lip Treatment is a great choice for any beauty lover.