Wearing a fragrance can complement your hair, makeup and outfit, as well as evoking particular memories. Finding your perfect scent can be easier said than done as perfumes tend to smell different on each person.
Did you know that fragrances fall into scent categories? Even classic scents, such as those that are well known in the beauty world belong to a certain group. Knowing which classic scents belong to which category will help you to find the best one for you. With that in mind, here are some popular classic scents that are well worth splashing out on.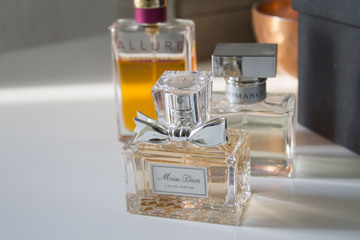 Black Orchid is a luxurious scent that has captured the attention of the beauty world. Enriched with notes of black truffle, black orchid, black plum and patchouli, this sensual and timeless fragrance is a must have in your beauty closet.
Fragrance group – oriental floral. Oriental floral scents are extremely popular, especially in the fall and winter as they're generally deeper than traditional floral fragrances. Created in 2006, this perfume will stand the test of time as a glamorous addition to your overall style.
A wonderful, modern scent for the young woman, Miss Dior contains notes of Italian mandarin, jasmine, rose, and musk. This romantic formulation was relaunched in 2012 and is an update on the original 1947 fragrance.
Fragrance group – chypre floral. Chypre floral scents make a beautiful daytime addition. Miss Dior represents elegance with a feminine edge for a traditional and wearable scent that will appease women from their teens upwards.
A modern day, romantic classic, Ralph Lauren Romance captures the essence of falling in love. Featuring notes of marigold, ginger, white violet, musk, day lily and sungoddess rose, this scent is perfect for an intimate evening.
Fragrance group – floral fruity. Floral fruity fragrances can be worn in the daytime or evening, depending on their blend. Ralph Lauren Romance, created in 1998 is a highly wearable floral fragrance that is comforting, yet sensual.
A fragrance list wouldn't be complete without the inclusion of Chanel. Despite being underrated in the beauty world, Allure Sensuelle is a warm, powdery and sophisticated scent with notes of bergamot, mandarin, pink pepper, rose, iris, and amber. It's ideal to wear in the colder months due to its spicy blend.
Fragrance group – oriental floral. Many oriental floral fragrances contain powdery bases with spicy notes for a sexy and deeper tone. Allure Sensuelle is perfect for those in their twenties and upwards who are searching for a glamorous and evocative scent.
A fragrance that has become massively popular in the last few years is Marc Jacobs Daisy. Combining notes of ruby red grapefruit, violet petals, musk, vanilla, strawberry and white woods, this light and airy scent is perfect for young women in search of a summer daytime fragrance.
Fragrance group – floral woody musk – floral woody musk scents add a powdery dimension to a traditional floral composition. Daisy is a fresh and bright scent for those who like to wear a modern, juicy blend.
Follow @ohzoe_