Our hair is just one part of our body that gets pretty damaged. There are several reasons why our hair can become damaged so quickly, however, there are also a few solutions that can help us achieve glossy, healthy locks.
Whether you have short or long hair, finding the right products can be a real challenge. So, how do you know which products to use? Here's our essential guide for discovering the best products for healthy hair.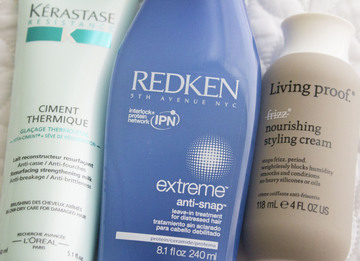 Our hair can become damaged by environmental factors, heat appliances, and a poor diet. So, to find the best products, we need to look for those that will address these factors.
Redken's miracle in a bottle product addresses all signs of hair damage. From weak hair to split ends, this leave in treatment helps to strengthen damaged hair while providing heat protection. Ceramide and proteins work to repair damaged strands while 18-MEA enhances shine. You can use this treatment on dry or damp hair, though it's recommended to be used before styling. Simply, dispense a small amount from the pump bottle and apply evenly all over the hair.
Kerastase Resistance Ciment Thermique Resurfacing Reinforcing Milk
A heat protection must have, this creamy treatment is a heat activated milk that protects damaged hair. This hair product is best applied to damp hair before styling and instantly smooths to make styling easier. Helping to strengthen split ends, your locks will look shinier and healthier after use.
Living Proof No Frizz Nourishing Styling Cream
This anti-frizz cream is formulated without silicones or oils to condition the hair while aiding styling. As silicones and oils can weigh the hair down, this cream is super lightweight and avoids build up to give your hair a smooth, shiny, and healthy look (although personally I use organic oils for face sometimes too). You can use this cream before styling to ensure that your locks look tame and conditioned.
Macadamia Deep Repair Hair Masque
If you need intense hydration then this is the perfect product for you. Formulated to rebuild damaged hair, this rich hair treatment is used after shampooing. You can leave it to work its magic for up to half an hour to nourish and repair. After rinsing, style your hair as normal and you'll have silky, shiny and bouncy locks.
While some oils can leave your hair feeling greasy, this incredible hair oil strengthens and adds shine. If you have dull, damaged hair, use this oil after styling to leave your hair looking glossy. With a vanilla scent, not only does this product smell dreamy, it also works to protect the hair from sun damage. Enriched with argan, linseed and cyperus oils, it's lightweight and hydrating. It's won many awards in the beauty sector which proves how popular this elixir is. Use in place of your normal shine or finishing spray.