Right now, I'm hooked on wearing Nike leggings. I really think they complement your body and feel great.
I don't know if you've noticed but these are trending big time and a lot of celebrities are helping this trend by wearing them while doing their shopping and daily routines (not just going to the gym)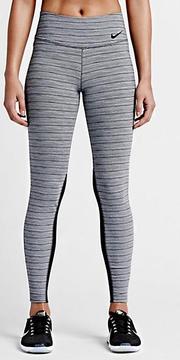 If you're like me and do a lot of exercising, on your "rest days" I like my legs to recover by wearing leggings. My legs sometimes ache from running, yoga and squats etc. so I tend to wear my Nike's (if I can) after my workout too.
I've got so many pairs of leggings in my wardrobe; I think I'm obsessed. I get really excited when I go shopping and see them… sounds sad and pathetic but it's true! I love looking after my body after a workout and I feel by wearing these leggings, it helps me.
Here are some of the funky pairs available right now for you to buy!
http://store.nike.com/us/en_us/pd/forevergradient-running-tights/pid-10264265/pgid-10341885
These are called Nike ForeverGradient and are quite think so these are for the cooler days. Retail price $150, a bit prices but are worth it and are available in 2 colourways – black and Persian violet.
http://store.nike.com/us/en_us/pd/legendary-jacquard-training-tights/pid-10296562/pgid-10296563
These are the Nike Legendary Jacquard training leggings. They are $100 and are available in 2 colourways – Black/black (even though they look like grey) and radiant emerald/black.
http://store.nike.com/us/en_us/pd/pro-hyperwarm-mezzo-waistband-training-tights/pid-1481183/pgid-10076129
If you're looking for a bright colour then go for these. These are the Nike Pro Hyperwarm Mezzo's and are priced at $60. Be aware that these are base layering and are see-through! Don't wear printed underwear unless you want everyone to see.
Shelley