Following on from our recent MAC guide, we thought you would might like to delve into the brand a little deeper. MAC cosmetics are a popular beauty brand and they have hundreds of products to choose from, so how do you know what are the best products to purchase? Here are the beauty products you need in your collection.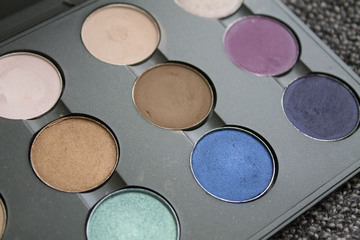 The Neutrals
MAC have a vast range of eyeshadows. You can purchase these in pan size and put them straight into a palette (which you'll need to purchase separately) or you can buy them in regular casing – these are slightly more expensive than pans but you can depot them manually into a palette. As with many MAC products, shadows have different finishes. The main ones to look out for are matte, veluxe pearl (metallic shimmer), frost (slightly shimmery), lustre (slightly glittery), satin (slight sheen) and velvet (demi matte).
From the original line up, our recommendations for starting a MAC shadow collection are;
*Satin taupe (frost) – a taupe brown with subtle silver shimmer. This shadow is buttery smooth and soft with high pigmentation. It's truly one of the brands best shadows and will fit into any shadow collection.
*Era (satin) – a gold beige with subtle shimmer. One of MAC's underrated shades, this shadow is perfect for the majority of skin tones and is super soft without any fallout.
*Malt (matte) – a pinky beige. This shadow is highly recommended for those who love a matte finish. The texture is soft and longwearing without feeling dry or chalky.
*All that glitters (veluxe pearl) – beige with gold pearl. This shadow is a popular choice for many and is a truly stunning shade that will complement any palette.
These neutral shades make a good basic line-up for any palette and can be paired with many other shades for a range of looks.
If you prefer a different texture of shadow then opt for a cream formula.
Paint Pots
Paint pots are a cream shadow that can be used as a primer, wash of color or paired with other shades. These are very longwearing and are ideal for those with oily skin.
Our pick of shades includes:
*Bare study – a light beige with gold pearl.
*Indianwood – metallic bronze.
*Vintage selection – peach beige with a frost finish.
The Liner
If you wear liner then try MAC Fluidlines. These are a gel liner that have a creamy and blendable formula for longwearing color. The liner needs to be applied with a brush – a pointed or flat brush is ideal. Here are our picks:
*Blacktrack – classic black that is a staple in many makeup collections.
*Macroviolet – a deep purple with subtle red pearl. An ideal choice if you want a hint of color on your eyes.
*Dipdown – a dark brown shade that provides a nice alternative to black.
The Cult Classics
Though MAC is well known for their color cosmetics, their skincare line packs a similar punch. There are two standouts here that have both become favorites with MAC fans.
*Strobe Cream – a hydrating moisturizer that highlights in a subtle way. Wear under foundation, mix with your base or apply over the top. You can highlight specific areas of the face or add luminosity all over your complexion. This magic cream brightens and reflects for beautiful glowing skin.
*Prep and Prime Fix + – a light, refreshing and hydrating water that helps to provide an airbrushed finish as well as ensuring that you base makeup doesn't appear caked on. You can also use this water to dampen your makeup brushes before application, freshen you makeup during the day or use it as a base.
Follow @_ohzoe