The 90's dungarees are back and trending. They've been around for a few months now and don't seem to be going away any time soon! Come rain or shine you can wear your trending dungarees and feel good.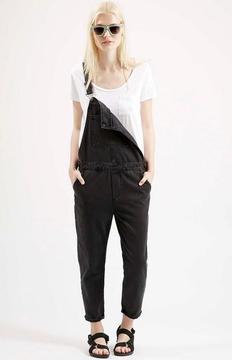 For hot days, you can always team your short dungarees with a simple vest or tee underneath and wear some sexy wedges or sandals. If you want to jazz it up a little, why not wear a statement necklace in case you want to feel more glam.
For the cooler days, you can either choose to wear your long dungarees with some slouchy boots and a long sleeve jumper or sweater over the top or you could wear your short dungarees. If you decide on the shorts, you can always wear thicker tights and the same top that you would wear with the long dungarees.
The best thing about dungarees is that they go with anything! Sneakers, boots, sandals, flip-flops or even bare-feet!
You could even add your character and style to the outfit by not doing one of the buckles up and let it hang loose or wear the long dungarees and wear one leg higher than the other. Whatever your style is, your dungarees will fit right in!
Topshop have a great pair of denim long dungarees $90.00
http://us.topshop.com/en/tsus/product/clothing-70483/rompers-jumpsuits-4107634/tall-indigo-dungaree-4588722?bi=0&ps=20
Even a short overall dungarees in washed our black colourway $70.00
http://us.topshop.com/en/tsus/product/clothing-70483/rompers-jumpsuits-4107634/moto-short-dungaree-4490515?bi=0&ps=200
Shelley