We love using drugstore beauty products! When you're on a budget, cheaper beauty products can still do the trick! There are so many health and beauty blog tips, as well as budget beauty products to choose from so knowing which ones do the best job will save you both money and time. From foundation to makeup brushes, here are the budget beauty buys we love!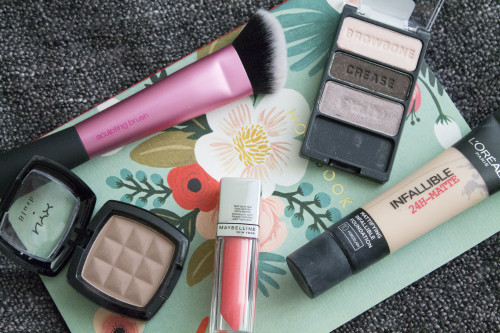 Loreal Infallible Pro Matte Foundation
The perfect foundation for normal to oily skin types, the Loreal Infallible Pro Matte Foundation is a great choice of base for those on a budget. With a matte finish, this foundation stays in place throughout the day, even in the heat. The lightweight texture helps to smooth the skin, hide imperfections and minimize the look of pores. If you have any large blemishes, you'll need to use concealer as this foundation is somewhere between a light to medium coverage but there's several shades available for a range of skintones.
Real Techniques Sculpting Brush
Contouring is a huge trend right now and we are big fans! If you're looking for a good contouring brush that isn't going to cost you a great deal then check out the Real Techniques Sculpting Brush. This angled brush is super soft and is the perfect size to define your cheekbones. You can use this brush with both cream and powder products and it makes them easy to blend. You can also use this brush with blush too!
NYX Taupe Blush
If you're searching for a product to pair with the Real Techniques Sculpting Brush then NYX Taupe Blush is the one. A soft, blendable powder, this light brown blush shade suits a variety of skintones from porcelain to olive. As this blush is fairly sheer, you can apply it without worrying about over application.
Wet N Wild Silent Treatment Palette
One of the best budget eyeshadow palettes you'll find, the Wet N Wild Color Icon Trio in Silent Treatment costs just $2.99 and contains three eyeshadow shades. Silent Treatment has a pink shade for the brow bone, dark brown shade for the crease of the eye and taupe for the eyelid. Each shadow is highly pigmented, soft and long lasting. This palette is great for creating both daytime and evening looks, whether you want to wear all three shades together of wear one as a swipe of color.
Maybelline Color Elixir Lip Gloss
Color Elixir Lip Gloss by Maybelline has the color of a lipstick, feel of a balm and shine of a gloss. Those looking for a gloss that isn't sticky will love these. They feel comfortable to wear, hydrating and deliver a pop of color. If you don't like wearing lipstick then give these a try as they're really wearable and don't cost a fortune either.
Follow @ohzoe_