Developed from 14 years of research, the Lancôme Advanced Genifique Youth Activating Concentrate is the brands newest serum designed to tackle anti-aging. Housed in a sleek, contemporary dropper bottle, this concentrate aims to add radiance to your complexion while smoothing fine lines.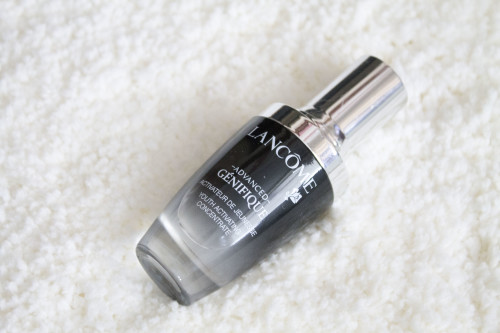 So, why use a serum?
Unlike a cleanser or moisturiser, serums can penetrate deeper into the skin to actively solve a range of issues that your skin may have. A serum is lighter than many other skincare products and should be applied after cleansing and toning and before your moisturiser in order to work effectively.
This anti-aging serum would probably work best on those aged 30+ or those who have visible signs of aging.
The formulation
Lancôme Advanced Genifique Youth Activating Concentrate is packed with powerful ingredients to target ten aspects of skin, including firmness, elasticity, fine lines, wrinkles, sagginess, texture, resiliency, radiance, even skin tone and clarity. With anti-oxidants like vitamin C, the formulation boasts 'Lancôme's added biotechnology ingredient' to create an innovative serum. It contains no parabens or sulfates.
What Lancôme's research results demonstrated
This serum was tested on 32 women over the course of 8 weeks and results were
Texture +57%
Resiliency +49%
Elasticity +50%
Firmness +49%
Sagginess +46%
Fine lines +42%
Wrinkles +46%
Radiance +52%
Clarity +47%
Even skin tone +42%
So, what did I think?
On first impressions, the bottle is very modern looking with the dropper making it easy to dispense a small amount of serum. With this product, a little goes a long way and you really don't need to go overboard with application.
The serum itself feels light and silky. Once applied to the skin, it's absorbed fairly quickly to leave a velvety finish. I like that the product soaks in quickly as it means you can immediately apply your moisturiser. It also doesn't leave any residue so it's perfect for a range of skin types, including very oily skins. From the first use, my skin felt smoother and firmer. I usually follow up this serum with an anti-aging moisturiser in order to achieve the best results possible.
I've been using this product for several weeks and I have seen a difference in my skin tone. That's not to say that this serum works miracles because it doesn't. Despite seeing a difference in certain factors, there are also a few things I haven't seen. I personally don't find that my skin really looks a lot brighter than before. I actually find that the best thing for helping to brighten my skin is by eating healthy foods and drinking lots of water. However, when it comes to targeting fine lines, I really do feel that this serum does a great job as my skin feels firmer, smoother and more refined. If you're going to try this, I would highly recommend using it in combination with other anti-aging products in order to get the maximum benefits. The Lancôme Advanced Genifique Youth Activating Serum isn't super cheap but it provides results in terms of targeting fine lines and it has a beautiful, light texture that absorbs quickly and won't make your skin break out. If you're searching for a new anti-aging serum then this is definitely one to try.
Follow @ohzoe_