Soft, glowing skin looks beautiful all year round but add a little bronzer and you'll resemble a golden goddess. In summer, we tend to crave clear, dewy skin and no matter what skin type you have, that look is possible with a few handy products.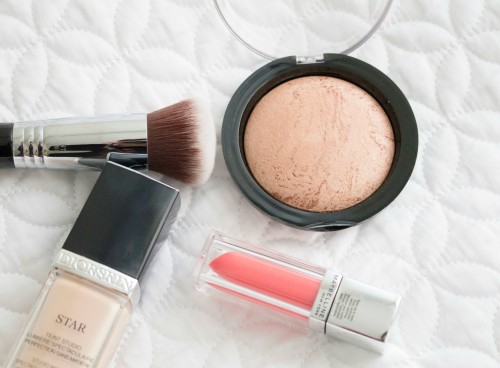 Let's start with skincare
Good skincare will give you a smooth complexion that will look striking either with a natural base or foundation. Every skin type needs to at least cleanse and moisturize daily. Also, remember to remove your makeup each night to avoid your pores becoming clogged. When it comes to cleansing, its ideal to use a cleanser suited to your skin type. So, for example, if you have blemishes then use a cleanser tailored towards deep cleansing and blemishes. To get that glow, we can use an exfoliating toner to help brighten the skin and clear the complexion. An exfoliating toner normally contains glycolic acid, which removes dead skin cells from the surface of the skin and softens, tones and provides a healthy complexion. A good exfoliating toner is the Pixi Glow Tonic, which you should use after cleansing and before serum and moisturizer. You can use this daily to add luminosity to your skin. If you use this type of product, you need to make sure that you use an SPF before exposing your skin to the sun as glycolic acid can increase sensitivity to sunlight.
Another benefit of a product like Pixi Glow Tonic is that it will help your serum and moisturizer to work better. If you want to achieve a beautiful glow then use a serum. Unlike moisturizers, serums can penetrate deeper into the skin and will really help to promote a radiant complexion. Try a product, such as the Fresh Rose Hydrating Face Serum to nourish and revive the complexion for a youthful glow or Ren's Radiance Perfection Serum for an even skin tone.
When choosing a moisturizer, a brightening product like Peter Thomas Roth's Camu Camu Power C x 30 Vitamin C Brightening Moisturizer will firm, radiate and smooth the complexion as well as improving the appearance of fine lines and wrinkles.
What about Makeup?
Before you apply your makeup, you should consider using a primer. A primer will help to smooth your skin and prepare it for foundation. If you have oily skin then opt for a mattifying primer to prevent your foundation from sliding off your skin, especially in the heat. Other skin types can use a brightening primer for a healthy glow. For foundation, try mixing it with a liquid highlighter like MAC's Strobe Cream which will brighten your skin tone and help to create a dewy canvas. Oily or combination skin types should opt for a demi matte foundation which will be long wearing but won't look cakey or dry. Try the Diorskin Star Foundation and set your base with a loose translucent powder to control oil. For a healthy flush of color, try a cream blush. Bobbi Brown's Pot Rouge in Calypso Coral is a great shade for summer. For an extra glow, try sweeping a shimmery bronzer all over your face and décolleté. Becca's Shimmering Skin Perfector in topaz or opal is ideal as it aims to highlight your best features and provide a lit from within glow. Finish your look with the eye makeup of your choice and a glossy lip to enhance your luminous base.
Follow @ohzoe_