Welcome!
I'll jump write in…
It will soon be the sixth anniversary of the death of Michael Jackson, but his family celebrated a much happier milestone. The late singers 'son' Prince graduated from the Buckley School in Sherman Oaks, California. His proud aunt La Toya tweeted a picture of her and the new grad.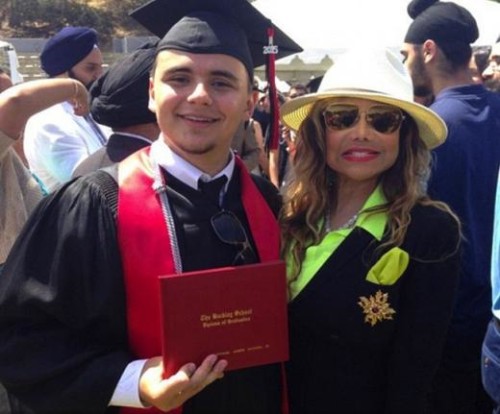 This was also a reunion of sorts for Prince's grandparents Joseph and Katherine Jackson. The estranged couple separated years ago and both put their differences aside in order to celebrate at the graduation party. Prince did not just rely on his 'celebrity status' to get him thru. The 18 year old walked the stage as an honor graduate! Good job Prince Michael Jackson I! While this was going on, a Los Angeles County judge was busy dismissing the molestation claim against the Jackson estate. Wade Robson, a dancer-choreographer, filed a claim against the pop star's estate in May 2013, alleging he was sexually abused. LA County Superior Court Judge Mitchell L. Beckloff ruled Tuesday that Robson waited too long to file his legal claim. Robson was a key witness for the defense in Jackson's 2005 criminal trial on child molestation charges. In that case he swore under oath that he 'never witnessed nor was he a victim of any inappropriate behavior ' by the super star. Jackson was found not guilty. I guess after Robson realized Jackson would not be paying out money for that bogus claim, it reminded him that 'Oh btw, Michael touched me too.' AKA…my so called dance/choreographer career is no more and I need some of that Jackson estate!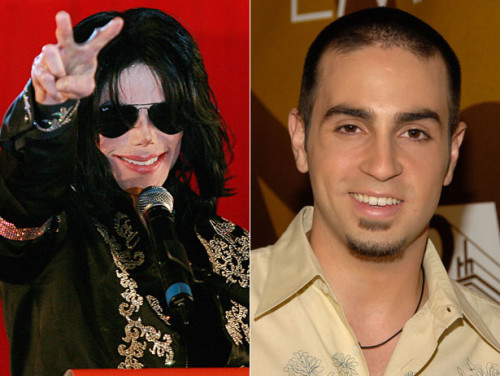 #killyaselfrobson#goodjobprince
Who says that chivalry is dead? A Kenyan lawyer offered a dowry of cows, goats, and sheep to marry Malia Obama! Huh…Whatcha say? That's right, Felix Kiprono, a lawyer in Nairobi, Kenya, has his eye on President Obama's daughter Malia. His offer to win her hand…? 50 cows, 70 sheep and 30 goats.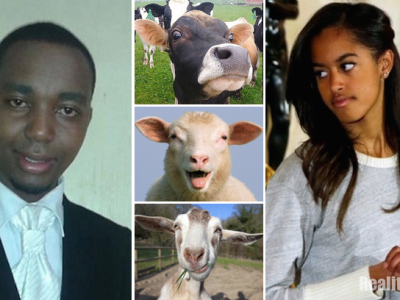 "People might say that I am after the family's money, which is not the case. My love is real," he told the Nairobian newspaper. Kiprono also added that he has been 'faithful' to his girl since he first became aware of her. "I got interested in her in 2008," he said. "As a matter of fact, I haven't dated anyone since and promise to be faithful to her. I have shared this with my family and they are willing to help me raise the bride price." I'm gonna stop right there. Malia Obama was 9 yrs old in 2008.
Felix's family needs to raise money for a good doctor. I understand different customs in different countries but please sit your pedophile, loin cloth wearing, farm animal offering dowry ass down. On a hard wooden chair. With nails in it. Then set it on fire. That's all.#wtf
Not only does Iggy Azalea have a new nose, chin and butt, the pop star now has a 10.5 carat yellow diamond ring on her finger. You guessed it! Nick Young has popped the question.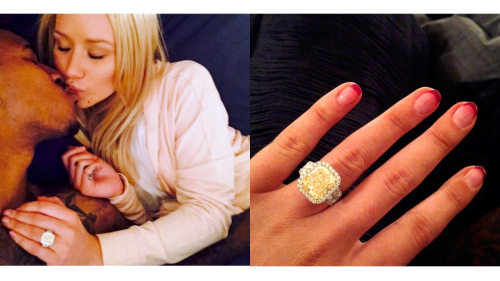 The L.A. Lakers player proposed to Iggy at his 30th birthday party this weekend only days after telling PEOPLE magazine "of course" a wedding was in the future. Young refused to divulge any details so the proposal blindsided most fans of the pair. This proposal may very well be a 'feel better' gift to Iggy after she cancelled her fall tour. This is the second tour that the 'Fancy' rapper has cancelled this year. According to promoters, Iggy wanted a huge, pyro-infused extravaganza with lots of back up dancers and singers! She needs something to cover up the fact that she can't really rap just in case the crowd wants another gibberish of yodeling AKA 'free style' from the performer. #ijs
I didn't want to write about it but since I can't even turn on the Cartoon Network without seeing "her" I  might as well. Before I start this 'entry' please remove your sunglasses because you will not be needing them. This PALM TREE I'm carrying around will be all the 'shade' you need. READY…? I'm talking about Bruce Jenner's reveal of Caitlyn on the cover of Vanity Fair Magazine!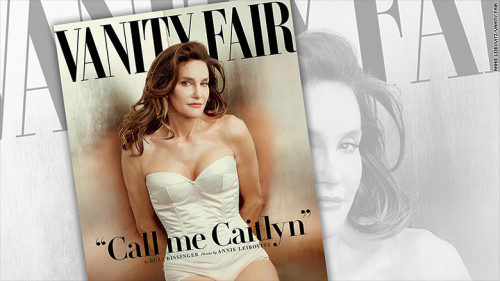 Barely a month after revealing to Diane Sawyer that her interview would be the last time we saw Bruce, Caitlyn feel out the closet on us on Monday. Boobs and Botox all over the place! Decked out in a White corset and boy shorts (pun totally intended), the cover was everything that nightmares are made of. The head line 'CALL ME CAITLYN' was in huge letters but they could have left no words since all eyes were on "her". Now they wanted to hang Michael Jackson when he turned into a pretty white woman in the 90's but we are celebrating Bruce doing the same thing.
I guess times have changed though. Caitlyn made use of one of Kim Kardashian's make up artists and wanted to make sure that she looked as feminine and lovely as possible. "I didn't want to look like a man in a dress," said Jenner- the man in the dress. Well good job using Kim's make up artist. They have been painting that whore to look like a house wife for years for Kanye so they are clearly good at what they do. Caitlyn not only broke the internet but Twitter as well. Only 4 hrs after starting a Twitter account, "her" had 1 million followers. It is already being said that Jenner is worth more as Cailyn than he ever was as Bruce. I say that everyone should live as they please since we are all made so different. I also say that some issues we need to deal with behind clothes doors. Hopefully this 'celebration' of Caitlyn will blow over soon, but not before it helps save the lives of those that are truly suffering with these kinds of gender identities. "If you looking for Bruce bihh, aint no more Bruce bihh! It's CAITLYN bihh!" (Plies) #whatthewhat
Later.