Welcome!
I'll jump write in…
The 2015 Billboard Music Awards aired
Sunday
night and brought out the big stars in true Billboard fashion. The big winner of the night was no surprise…Taylor Swift. Even if she hadn't premiered her star studded new video 'Bad Blood' at the top of the show, we would still have been tired of seeing her as she accepted her 8 (that's right 8) BBMA's.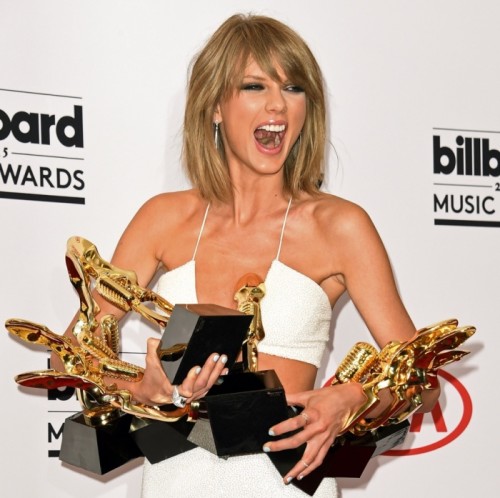 These honors included top artist, top Billboard 200 artist, top Hot 100 artist and top streaming song, the list goes on. During her acceptance speech for top female artist, Swift thanked "all the girls I talk to on the Internet and we talk about your feelings and you teach me your teen slang." Uhm…can someone remind Taylor that she is 25 not 52 please? The last few years in music have belonged to Swift hands down. Even if you don't know her music you have to be from Mars to not know her name. Taylor had everyone talking with her white crystal emblazoned jump suit that took us back to 70's (with out the boobs, curves and hips).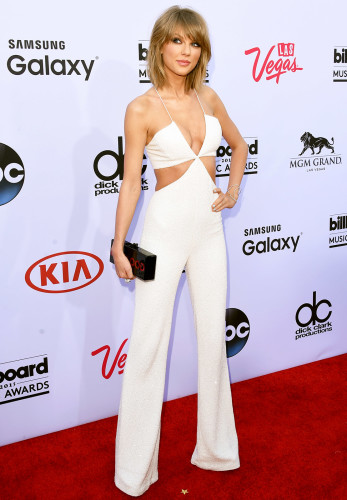 She is a more popular giraffe than Jeffrey from Toys R Us! Do it Taylor!
Speaking of the Billboard Awards, Kayne West is 'bleeping' mad over the censorship of his performance
Sunday
night. As we saw (but didn't hear) large portions of the rappers songs 'All Day' and 'Black Skinhead' were missing from the broadcast, leading some to wonder if their audio had gone out.
Now West is speaking out about the show via a statement from his rep, who says he was unfairly silenced. Whaaat…?! Kayne spoke out about something?! "Kayne was grossly over-censored at the Billboard Music Awards," his rep says in an interview. "Non-profane lyrics such as 'with my leather black jeans on' were muted for over 30-second intervals. As a result, his voice and performance were seriously misrepresented." Unfortunately, censorship wasn't the only thing that the rapper, 37, had to contend with during the BBMA's. A source at the awards ceremony reported to TMZ that the crowd booed him after his performance at the MGM Grand Garden Arena–but not as loudly as they booed his sisters-in-law Kendall and Kylie Jenner. Could the Kardashian reign (of terror) finally be coming to an end? Kris Jenner is liable to make the whole family become transgender in order to keep that show on the air.
Adrian Peterson may not be a cowboy (yet)…but he sure was loved in Texas this past weekend. The guy walked into the Flying Pug bar in Houston
on Sunday
night and bought EVERYONE a shot of vodka!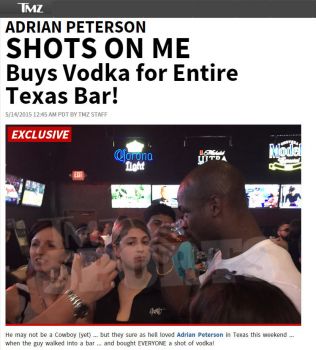 It's reported that AP was the life of the party from the moment he walked in. On lookers observed Peterson enjoying some whiskey, but he wanted to make sure that everyone got their drink on and ordered up a round of Grey Goose shots for all on him. The fun didn't stop there because Peterson's group moved the party down the block to another bar called Exit 73. The rage continued! The best part of the night was that AP played it safe and had a sober friend drive him home at the end of the night. Even bald guys gotta let their hair down sometimes. I honestly can't find anything wrong with free vodka shots. #nocuts#shadefreesunday
Janet Jackson has announced a comeback album and new world tour seven years after her last record. The star stayed true to her word as she made sure fans got the news directly from her. The superstar, who turned 49
on Saturday
, surprised fans by posting a video on her Twitter announcing her 11th album, which will be a follow up to 2008's Discipline.
That album only sold as many copies as it did because she bought each of the 100 Jacksons a copy. The video showed a studio playing sexy music as Janet makes the announcement in her signature sexy Michael imitation voice. Or did he used to imitate her? Either way, Penny from Good Times recently moved record labels to Atlantic Records and it has been rumored by execs from the label that new music would be released on
July 10
.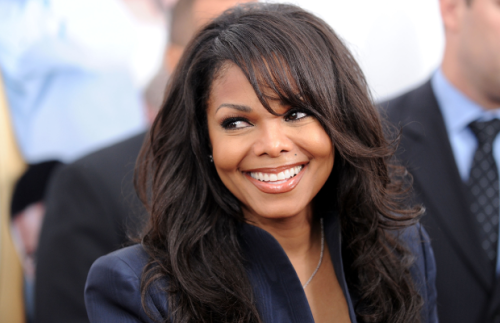 We all hope that Janet still has 'Control' over her limbs and a big jar of Ben-gay for that world tour. I am sure there will be more to write about with this debacle…I mean story.
Now this entry gets serious. The music world mourns the loss of a legend this week. Blue's legend B.B.King died of a series of small strokes that were related to his long time battle with diabetes. Doctors report that King's blood flow was reduced because of chronic diabetes. King died last Thursday at the age of 89.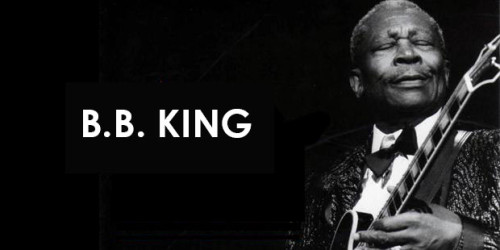 Clark County (Las Vegas) Coroner John Fudenberg says a hospice nurse was with King when he died. King's lawyer says that tour manager, Myron Johnson, also was with King when he died. Fans and friends have been remembering King's legacy at Club Ebony, the historic club in Indianola where King got his start and later purchased. You will be missed– R.I.P. B.B. King of Blue's.
Later.