Welcome.
I'll jump right in…
Last weekend Floyd 'Money' Mayweather showed great love for the sport of boxing.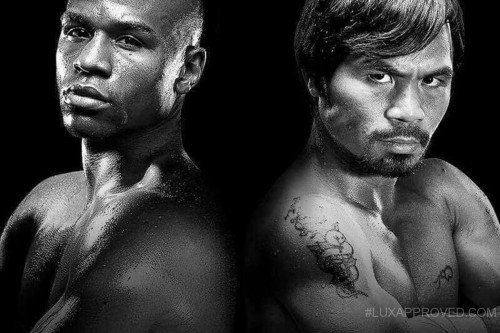 By love I mean he 'hugged' his way to yet another victory, defeating Manny Pacquiao for the World Welter Weight Championship. The fight was called by unanimous decision by the judges. After 12 rounds of hugs and dancing, two judges scored the fight 116-112 with one judge scoring 118-110. Mayweather landed 67 more punches than Pacquiao according to the judges, increasing his record to 48-0. The superstar boxer now says that he plans to 'retire' (again) 'So that someone else can have a chance at winning the title.' This fight was the biggest boxing event in recent years and brought out so many people from around the country and world that the private jets caused a huge traffic jam at the Vegas airport. Can't wait for the next 'FIGHT OF THE CENTURY'. Good show Money and Pac!
Pacquiao wasn't the only one to lose that faithful 
Saturday
 night. Jamie Foxx got knocked out attempting to sing the National Anthem. The Oscar winner butchered the Anthem so badly that I wanna move to the Philippines with Pacquiao after hearing his 'rendition'. The crowd seemed uncomfortably quiet during the howling, I mean performance, and reluctant to applaud when it was all over. I'm sure more people were clapping because it ended than were clapping because they liked it. 
Fox blamed the massacre on 'not being able to hear the organ over the crowd'.
I blame it on the a-a-a-a-a-alcohol. #FAIL
Real Housewives of Atlanta husband Apollo Nida has spoken out from jail. Nida is the husband of 'shade queen' Phaedra Parks.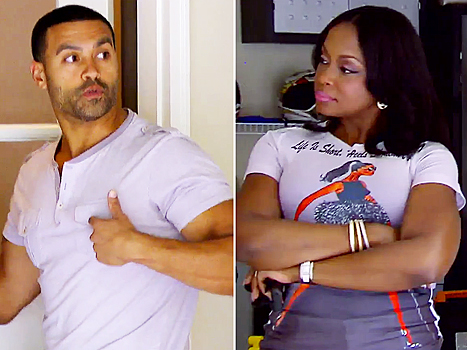 As we all know, Apollo is serving an 8 year sentence for bank fraud and identity theft. All this in an attempt to keep up his life style and wife in Atlanta. Somebody had to pay for those new boobs that she is wearing. Nida fires shots at his estranged wife saying that she has yet to bring their two sons, 4 year old Aiden and 1 year old Dylan, to visit him in prison. Phaedra defends her decision by stating that there are too many rules that don't allow you to easily bring a toddler to a prison. Although no one is encouraging Apollo's crimes, I'm sure if 'JaQuita' can find a way to get little 'Demarvontae' down to the prison to see his pops then 'Attorney' Parks can get her boys in to have a quick visit.
Mariah Carey has been named the new 'king of Battle Rap'? The chanteuse released her new single 'Infinity' last week and the song has more 'cuts' than a cutting board.
Carey claims that the song is not about her soon to be ex husband Nick Cannon.
However, I am not so sure about that. Mimi asks a former love 'Why you mad/ Could it be that you just lost the best you ever had/That's ya bag/yup that's to bad'. According to the 45 year old mother of 3 year old Moroccan and Monroe (Dem Babies), the song is an anthem for all women who have been done wrong by a man. Hmmmm… Carey croons on saying 'Why you acting so corny like fritos/Wouldn't have none of that without me though' and who is more corny than Nick Cannon? It only gets worse for WHOEVER she is singing about as the lashing continues asking 'Is it lack of ice got you so cold/Everything you own boy you still owe'. Either way, the single is the only new song on Carey's 19th album titled '#1 to Infinity'. This album is another greatest hits collection that includes all 18 of Carey's #1 singles and is slated to land as her 19th. Stop messing over these woman that know how to sing and write songs.
The internet is broken AGAIN! Any celebrity that is anybody showed up for the 2015 Metropolitan Gala in New York City and most of them forgot their clothes. Probably because Rihanna had all of the fabric in her outfit.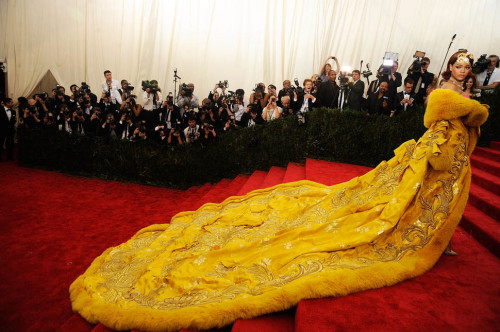 The 'Better Have My Money' singer showed up in a yellow cape with a train that needed four carriers to hold it. Since Riri wore all of the fabric, others like Beyoncé and Kim Kardashian were forced to go naked due to the shortage.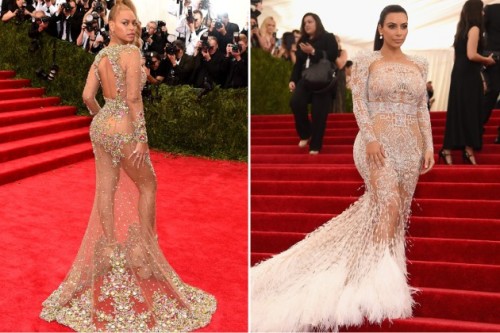 There is a debate over exactly who has been Googled more after the huge event. Beyoncé worked a barely there sheer dress that left little to the imagination. Although she dazzled in the Givenchy Haute Couture by Riccardo Tisci gown, more people were talking about her high ponytail. A girl with a side pony never hurt anybody.
Later.
M Ti'ant