I've been enjoying the week off, spending time with my family & begrudgingly had to return to work today -but low & behold the perfect pick me up was waiting patiently in my gmail!!: BLACK & SEXY TV IS RELEASING THEIR FIRST FULL LENGTH MOVIE!!!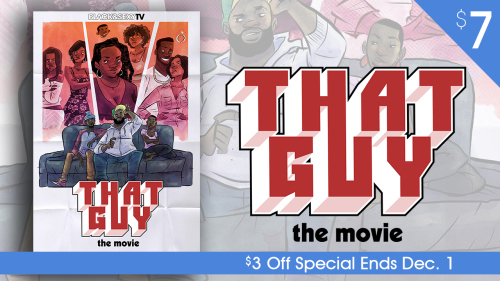 "It's a little less than a month until Christmas, which means the time is coming for the official release of the THAT GUY Movie on December 25th! Yes, in case you haven't heard, there's a MOVIE!
Pre-order your copy to get the special "Black Business Friday" $3 discount this weekend only (Sale ends on Monday, Dec. 1st)! Jeanine Daniels and the entire cast/crew have been working tirelessly to bring you this movie and it is going to be EPIC! Place your order and see the 1st trailer now!
[youtube youtu.be/XH7Z4sIBbhM]
*And GIFT THIS to a friend or family member for Christmas! You can choose to have it delivered on Christmas Day while still supporting a Black Business!
► PRE-ORDER Your Copy Now: ThatGuy.VHX.TV
#BuyBlackFriday #SupportBlackBusinesses #BlackoutFriday
Happy Holidays!
-The BLACK&SEXY TV Team"
Thank goodness I saw this today! & of course I couldn't be selfish & not share the good news with y'all!
Now, I fell into another depression when I saw I had to wait til Christmas but I believe my coworkers will appreciate that I'm less salty… for the moment. lol!