I was prowling through my email & noticed this jewel!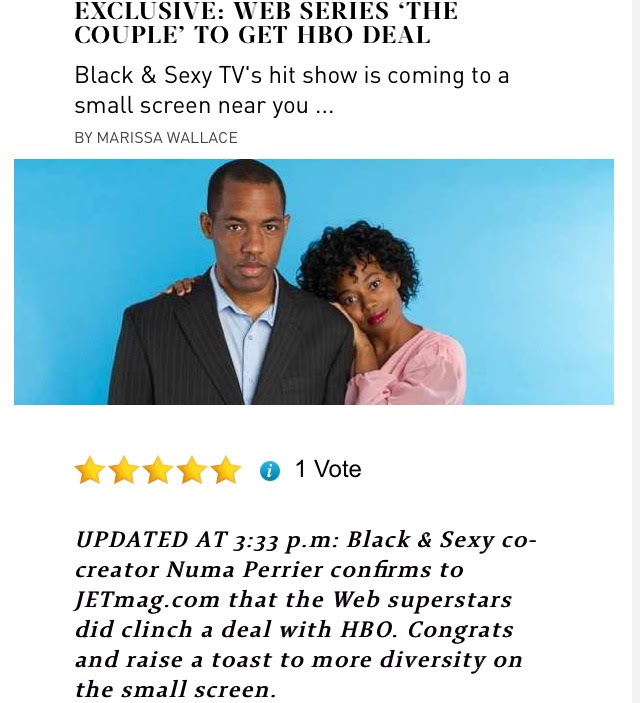 THE COUPLE GOES TO HBO…
Our vision for Black&Sexy TV has always been to nurture the audience that loved our work as filmmakers and create a full slate of original programming that spoke to their sensibilities and our standards.  That is why it is so fitting that 
Jet Magazine reported
 the exciting announcement that we have entered a development deal at HBO for The Couple to cross to the TV platform.  We can also confirm that Spike Lee has come on board as an executive producer. This type of partnership grants a greater recognizability for the network and opens up other creative collaborations that keep us moving towards becoming a household name.
BLACK&SEXY PAY-PER VIEW….
While we were in discussions with HBO, we have also been slowly figuring out how to keep Black&Sexy TV self sustainable.  We are excited to announce our first step into a pay model for the network.  We are not yet moving into the monthly subscription, but we are going to start instead with a pay per view event- The Valentines Day Special Episode of Hello Cupid.
We know there's a large group out there waiting to know what exactly will happen with Whitney, Robyn, and Proud Dad.  We will hold a special screening in Los Angeles on Valentines Day (double feature of Hello Cupid and Roomieloverfriends) and the episode of Hello Cupid will be available to stream and download for $3 online.

Again we are excited to see how this first step to a pay model works for the network. The success of this will lead to more content, more often of your favorite shows.
Congrats to the Black & Sexy Crew!!! & I can't wait to see the new episodes!