How To Pick The Right Bathing Suit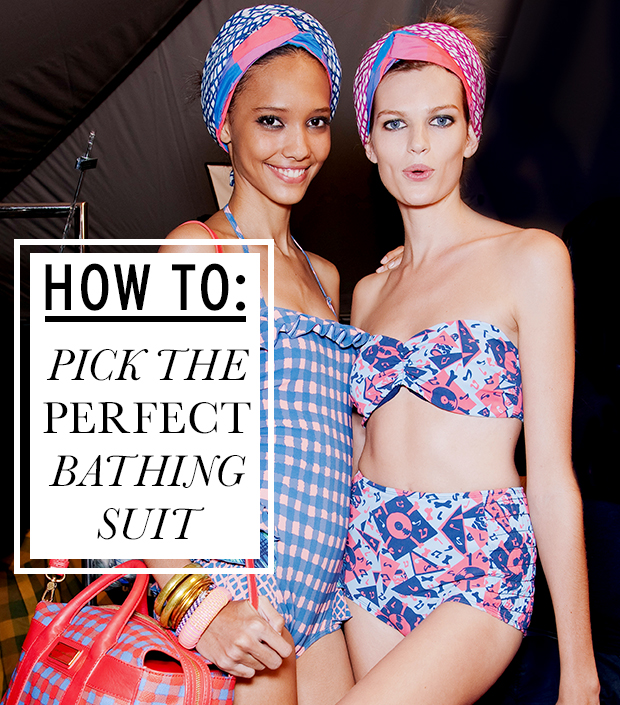 You may prefer the beach to the pool, or surfing the waves to lounging in the sun, but there's one thing we can all agree on: shopping for new swimwear is downright intimidating. How to pick the right bathing suit is one of life's most vexing sartorial dilemmas, which is why we've enlisted the help of Shoshanna Gruss. The designer launched her eponymous clothing line Shoshanna in 1998, which was followed by Shoshanna Swimwear in 2001, after she was inspired by her own swimsuit setbacks. Clearly, she's an expert in this department, so whether you want to minimize your midsection or create the illusion of more curves, you can kiss your dressing room woes goodbye after reading today's story. Keep reading for the best swimsuit-by-body-type shopping tips and be sure to check out our picks.
If you're top-heavy…
"Look for a suit with great support," Gruss says. "One of the best styles for this is the halter suit. The Shoshanna Swimwear Texture Ring Halter ($96) and Brief ($88) is great because the thick strap helps distribute the weight, making it more comfortable, and the empire piece acts almost as an underwire." DVF Hearts Roxy 70s Halter Bikini Top ($52) and Lowrider Side Tie Bikini ($44), as well as Tory Burch's Tofino Halter ($130) and Bottom ($130), are similar halter-style bikinis and come in pretty yet understated prints.
If you have a hourglass shape…
"A one-piece with a wrap or ruching detail will slim your middle," Gruss says. "This style will highlight the smallest part on your body–your waistline–and play up your best assets." Go for a solid-colored one-piece in a punchy hue; we suggest J. Crew's Jersey Lomellina Ruched Crossover Tank ($118), Miraclesuit'sCaliente One Piece Swimsuit ($158), and Shoshanna Swimwear's One-Piece Suit (available this week).
If you're pear-shaped…
"When shopping for bikinis, stick to bottoms with a tie-string so they're easily adjustable," Gruss recommends. There are plenty of playfully patterned and figure-flattering options on the market, such as Helen Jon's Marbella String Bikini Top ($92) and Bottom ($74), Heidi Klein's Triangle Bikini ($380), and Missoni's Mare Chevron Knit Bikini ($296).
If you have a boyish figure…
"Look for bright colors, prints, and different textures," Gruss says. "The Shoshanna Swimwear Ruffle Bandeau ($112) and Brief ($72) is perfect because the ruffles add a feminine touch and the illusion of curves." We also love the delicate frills on 2Chillies Swimwear's Amani Frilled Bandeau ($45) and Double Frill Pant ($50), as well as Lauren Moffatt's Dropshot Ruffle Bandeau and Bikini ($186).
If you have a long torso…
"A big floral print breaks up a straight silhouette and create curves," Gruss explains. "You can also add the illusion of more shape with shirring, ruffles, and ruching." Amore & Sorvete's Bolly Bikini Top ($106) andBottoms ($106) fits the bill, or you can try the tropical motif of Beach Riot's Heartbreaker Sophie Bikini Top($73) and Cupid Bikini Bottoms ($62). Urban Outfitters' Retro Floral Bikini Top ($42) and Bottom ($36) also offers a flattering high-waisted silhouette.
If you're flat-chested…
Make sure to pick up a bikini top embellished with ruffles, which "create the illusion of a bigger chest," according to Gruss. Fill out your frame with MICHAEL Michael Kors' vacation-ready Ruffled Halter Swim Top ($76) and Tiered Ruffled Swim Bottom ($60), Marc by Marc Jacobs' cheeky Molly Checks Bikini Top($94) and Bottoms ($94), or Zimmermann's ultra-feminine Oasis Frill Bandeau Bikini ($250).
If you have an athletic shape…
"Accent your toned figure with attention-grabbing graphics and sporty cuts," Gruss explains. "Show off your shoulders and minimize the bust. Choose full-cut bottoms if you're planning to be active on the beach, and wear brights to highlight your most shapely assets." We're partial to the vibrant colors and busy patterns of Zimmermann's The Vase Scoop Bikini ($210) or ASOS' Blanket Print Halter Plunge Fuller Bust Bikini Top($27) and Loopside Bikini Pant ($20), in addition to the sleek athletic-inspired shape of Juicy Couture'sMiss Divine Halter Bra ($87) and Sheath Classic Bottom ($87).
Now that you know what suit to shop for depending on your body type, keep reading for more need-to-know tricks from the designer below.
Is there one swimsuit that's flattering on all body types?
"A one-piece is such a classic style," Gruss says. "I love the retro pin-up girl feel, and with so many options available this season, there is a style to flatter every body type. It's also a great way to cover your flaws and draw attention to your best assets."
How do you know if you're choosing the right size when it comes to the top and bottom?
"Always try the suit on before purchasing because sizes will vary, even from the same label," Gruss advises. "Your suit should have the same comfort level as a bra. If you're planning on doing more than just reclining on a towel, try bouncing around, and run in small circles in the dressing room–make sure it provides enough coverage. A top that covers three quarters of your bust is just the right amount of appropriate and pretty. All of our two-piece suits are sold as separates and tops are based on bust size to assure you're purchasing a suit that fits your specific body type."
**courtesy of Who What Wear