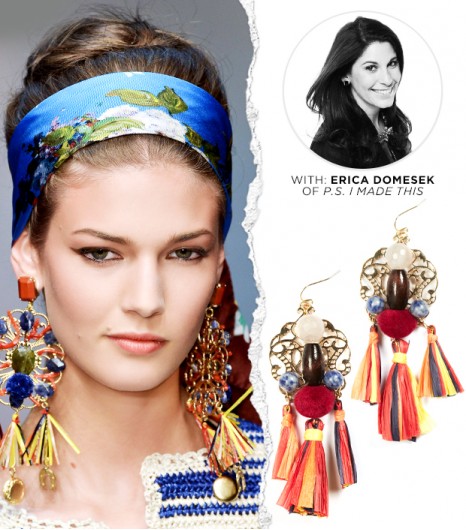 When creating their Sicily-inspired S/S 13 collection, no detail was too small for designers Domenico Dolce and Stefano Gabbana. You could see the Italian island's rich and vibrant culture in everything from street theater puppet prints to brightly hued crochet wedges. Even the collection's crowd-pleasing jewelry, most notably the Clip On Pom Pom Raffia Earrings ($565), nodded to the brand's Mediterranean theme. While we're not in the print-making business and haven't crocheted any shoes lately, we had a hunch we could create our own version of the mixed-media earrings–with a little help from D.I.Y. expert Erica Domesek of P.S. I Made This, that is!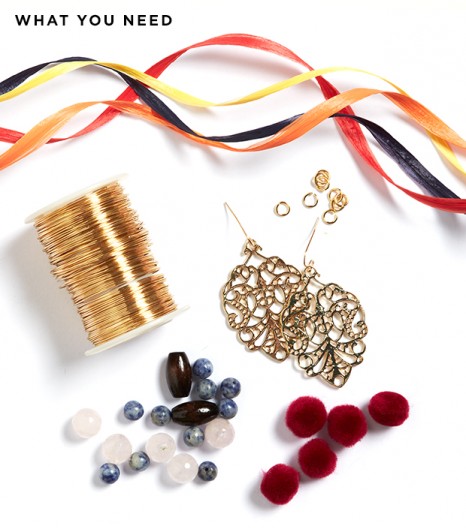 -Forever 21 Filigree Drop Earrings ($4)
–Raffia Ribbon ($13/yard spool) in Red, Yellow, Navy, and Orange
-Assorted Beads and Stones (Erica used a mix ofwooden beads ($0.01 per bead), rose quartz stone ($7 per strand), and lapis stones ($8 per strand))
–Pom Poms ($11) in assorted colors
–Gold Wire ($7)
–4mm Jump Rings ($0.05 for 100)
–Pliers ($8)
Filigree Drop Earrings ($4), Raffia Ribbon ($13),wooden beads ($0.01), rose quartz ($7) lapis stone ($8), Assorted Color Pom Poms ($11), 30-Gauge Silver Plated Gold Wire ($7), 4mm Jump Rings ($.05) Beadsmith ($8)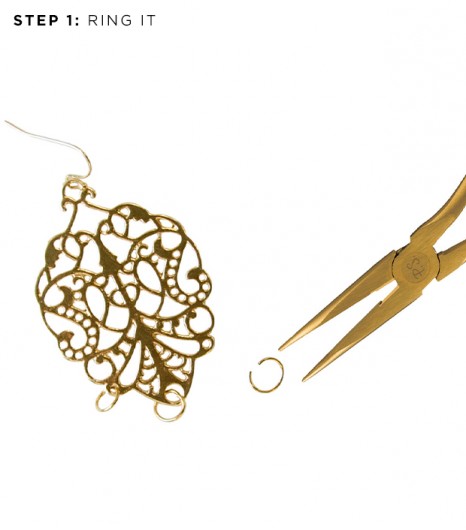 Use pliers to attach jump rings to the bottom of the filigree earrings.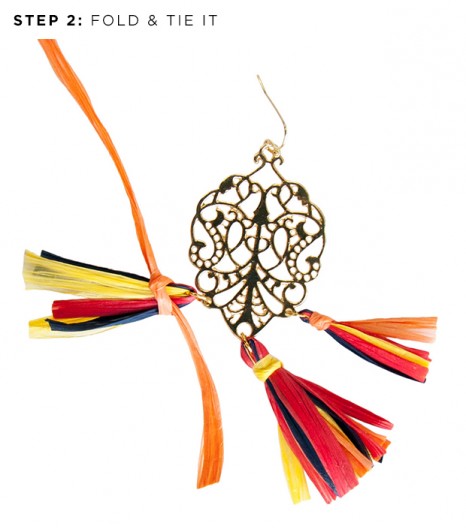 Cut the raffia ribbon into strips that are approximately four to six inches long. You will want a mix of colors for each jump ring. Create a tassel by stringing the ribbons through the jump ring and then fold in half at the center. Erica used three ribbon strips (one for each color) for the two outer tassels and nine (three for each color) for the center. Using another piece of ribbon, tie a knot around the top of each tassel to secure the strips.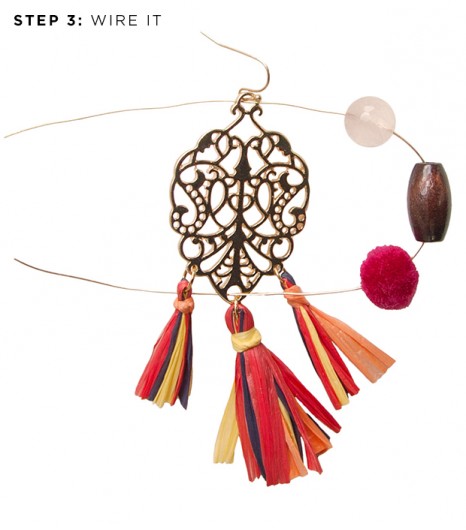 String an assortment of beads and pom poms onto a piece of gold wire and loop through the earring. Twist and knot the wire to secure it onto the earring.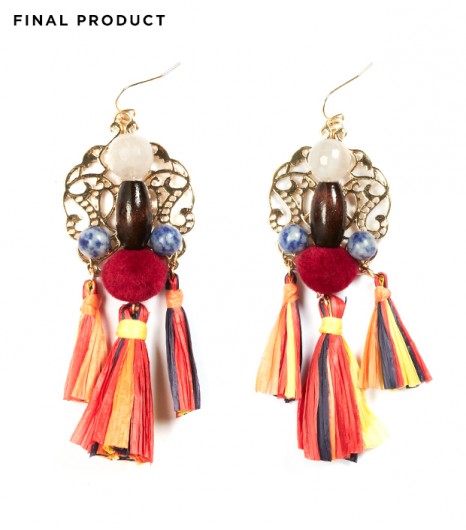 Perfect for you next BBQ, pair these statement earrings with a little denim dress and sandals. Just be sure to keep them in the spotlight by pulling your hair back into a sleek updo.