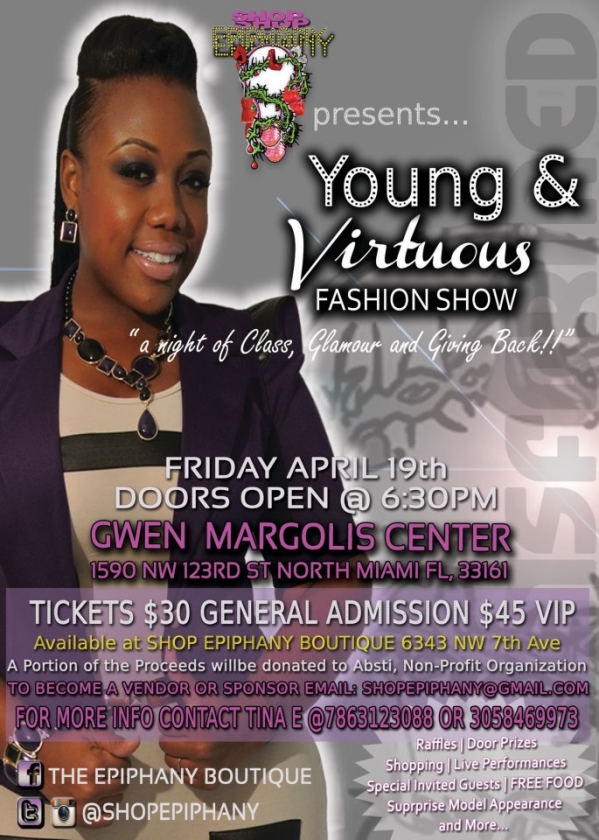 Shop Epiphany Presents Young & Virtuous Fashion Show [Miami]
April 19, 2013
In 2008, Shop Epiphany was established to provide High Fashion, Star Treatment and  the right prices to the urban community of Miami. Our main goal is to bring the High-end fashion and services of South Beach to Liberty City. Today, we have empowered hundreds of young women with our life changing messages that have helped to foster positive self-esteem in women.
 Shop Epiphany is hosting its first annual Fashion Show entitled "Transformed"  The Fashion Show will be an informative platform that will bring awareness of self-worth, value, integrity and improve self-image by building stronger individuals. The goal is to bring this message to women in all communities about rebuilding character, self-image and teaching the true essence of who young women should become, changing the world one decision at a time.
The event will be taking place on April 19, 2013 at the Gwen Margolis community center in North Miami, Florida and we are expecting to have over 200 in attendance. We ask, if possible, that you too can help us support the movement of purity and impact today's society by supporting us in our efforts to educate women on character building skills that will change their lives.
If you have any further questions regarding this event, please do not hesitate to contact me (305)746-2025. 
To Purchase Tickets, Stop By Shop Epiphany Boutique
6408 NW 7th Avenue
Miami, Fl 33150
To Become A Vendor or Sponsor, Contact Tina at ShopEpiphany@gmail.com
Twitter: ShopEpiphany
Facebook: ShopEpiphany
Instagram: ShopEpiphany