My sister & I hate that line from Jeezy! A denim jacket without sleeves is a VEST!!!! lol!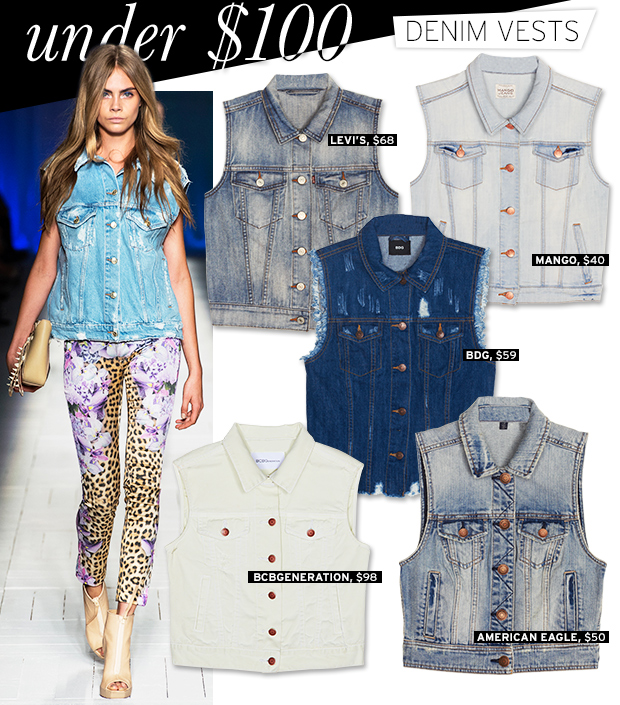 As we head into spring, it's important to take stock of your wardrobe and make sure you have all the necessary staples on hand. The perfect white t-shirt? Check! A little leather jacket? Check! A denim vest? Now that's where we've got you covered. The denim vest is a true transitional piece and the perfect lightweight layer for all of your casual tops and warm-weather dresses. Lucky for you, spending a fortune to get one is not a requirement, as we've rounded up an assortment of spring's coolest denim vests, all under $100. Read on for our favorites!
The Inspiration
Featuring a light wash and distressed detailing, the Denim Vest ($615, 609.317.1000) Cara Delevingne modeled at the Just Cavalli S/S 13 show is unquestionably cool. While its worn-in look is decidedly casual, the addition of the slim Alma Tadema Leopard Pants ($860, 877.551.7257) and nude peep-toe leather platform heels takes the vest from weekend-ready to stylish night out with the girls.
Shop The Look
Levi's Trucker Vest ($68)
Levi's has that perfectly worn-in wash down to a science, which explains why we love their Trucker Vest so much. Its vintage-y look would be the perfect complement to a breezy summer frock.
MangoDenim Gilet Vest ($40) in Light Denim Mango's light-wash denim gilet has a clean and polished look you can easily dress up (pair it with a ruffled dress and platforms) or down (style it with a band tee and black skinnies).
BDG Cutoff Denim Vest ($59)
Frayed hems give this vest a bit of that I'm-with-the band nonchalance we adore. In other words: this should definitely be on your packing list for the upcoming summer music festivals.
BCBGeneration Cropped Denim Vest ($98)
We're seeing so much white denim this season, and this vest by BCBGeneration offers a fresh way to try the look. Contrast the neutral hue with a bright blouse, or layer it over other white pieces for an intriguing monochromatic look.
American Eagle Denim Vest ($50)
The great thing about this American Eagle vest is that it's fitted around the waist, so it really shows off your shape. The shrunken fit looks equally great with flowy silhouettes or over more body-conscious pieces.