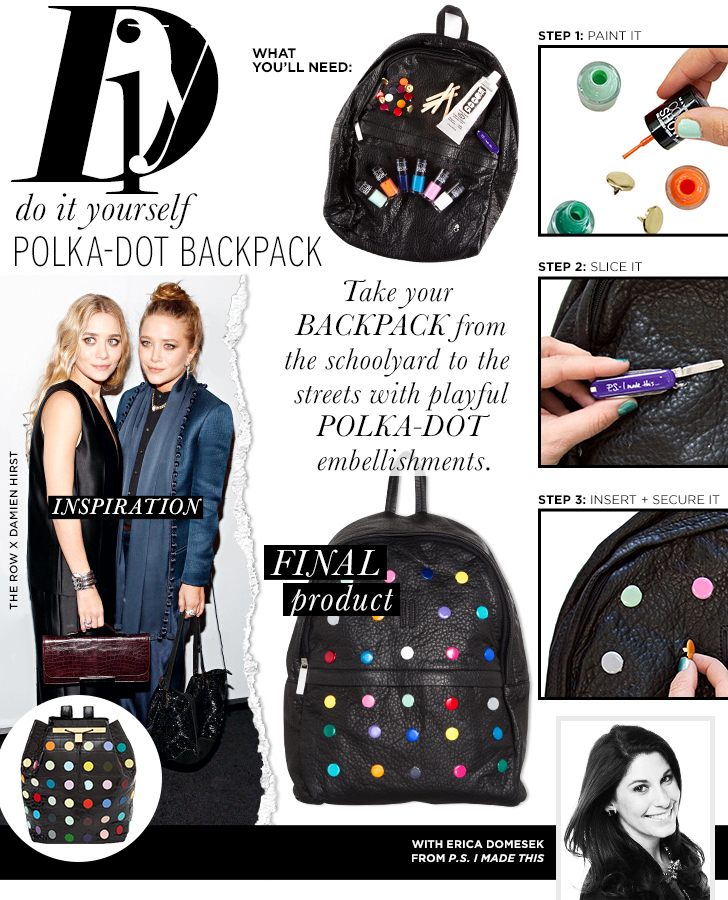 Between their successful fashion brands-The Row, Elizabeth and James, and StyleMint-it's safe to say Mary-Kate and Ashley Olsen have a knack for producing timelessly chic and effortlessly cool pieces women want to wear. In their latest endeavor, the designers teamed up with artist Damien Hirst to create a collection of 12 limited-edition backpacks, available exclusively online at Just One Eye. Each one-of-a-kind bag is a wearable piece of art, but our favorite of the bunch has to be the Multicolored Spots Bag (price upon request) with small laminate appliques in a mix of bright hues. The playful spotted design gives the luxe backpack street-ready appeal and would be a lovely addition to spring's cheerful ensembles. The good news: you don't have to fork over a mortgage payment to get the look. To prove it, we asked Erica Domesek of P.S. I Made This to show us how to make an affordable version in this month's Do It Yourself story.
P.S. Head to the Who What Wear Facebook page for a music playlist curated by The Jane Doze, exclusively for P.S. I Made This. The tracks are perfectly in-tune with today's project.
Ingredients
-Nixon Get Back Pack ($48)
-Maybelline Color Show Nail Lacquer ($4 each, select a mix of hues)
–Large Gold Brads ($7/pack of 16)
–Swiss Army Knife ($29)
–Glue
Directions
1. Paint the surface of the brads with assorted nail polish colors. Erica used 10 different shades of the Maybelline nail lacquer.
2. Slice small slits evenly across the front of the backpack with a Swiss army knife to create holes for the brads.
3. Once the painted brads are completely dry, insert them into the holes and bend their wire legs to attach to the bag. To ensure they are securely fastened, dab a small amount of glue on the backside of the brad (inside the backpack).