It's Christmas Eve!! Happy Holiday & a big mistletoe induced *MUAH!!* from me to you!
It's time to break out that holiday gear & prep for the family Christmas gathering, the after 5 soiree with friends or wherever you holiday plans take you! It's looking like it's gonna be either cold and/or snowy most places tomorrow & if your like me, you're not in favor of that winter air blowing up your adorable party dress, giving you goosebumps & making your teeth chatter! One way to stay warm is wearing tights with your outfit, yes even with open toed shoes (hence the title!) Here are 6 ways to rock this look from stylists Emily Current & Meritt Elliott: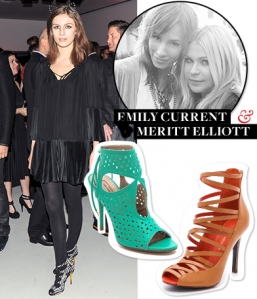 How do I wear tights and open-toe shoes? Can I wear black tights with metallic shoes? Do they need to be the same color? Help!
It sounds like you're having some tights troubles, but don't fret, we're here to help. Good news: tights do indeed work well with your favorite open-toed shoes, just be sure to keep in mind some of our simple styling formulas when putting together your look! Styling Tip # 1: neutral tights + metallic shoes Perfect for the party princess, this combination will take you well through the festive season. Charcoal or black tights ensure your standout heels stay in the spotlight. Styling Tip # 2: colorful tights + contrasting shoes This one is for all the tonal trendsetters out there. A bold duo, like burgundy and hot pink or forest green and turquoise, will showcase your fashion-forward sensibilities while ensuring a high-impact result. Styling Tip # 3: black tights + camel shoes This particular pairing is quite versatile and a fitting choice for both the office and weekend. Together, opaque tights and ankle booties with cutout details will give your staples some downtown edge. Styling Tip # 4: black tights + neutral dress or skirt + bright shoes There are an abundance of statement heels on the market right now, and this easy-to-wear, black-on-black mix ensures they're the focal point of your ensemble. Styling Tip # 5: patterned or textured tights + black shoes Whether they're lace, embellished with pearls, or feature an opaque and sheer plaid, patterned or textured tights are an easy way to add interest to your look. Stick to sleek heels or pumps so your shoes don't detract from the tights. Styling Tip # 6: colorful tights + same color shoe + same color dress If you want to try a monochromatic look, the key is to incorporate a mix of textures, such as cotton and suede, and play with subtly different shades of the same hue. Finally, don't forget to check for rips or holes and that your tights are evenly opaque throughout the leg. Now that you're equipped with multiple outfit ideas, go ahead and keep your girlish gams toasty and stylish through these upcoming chilly months.