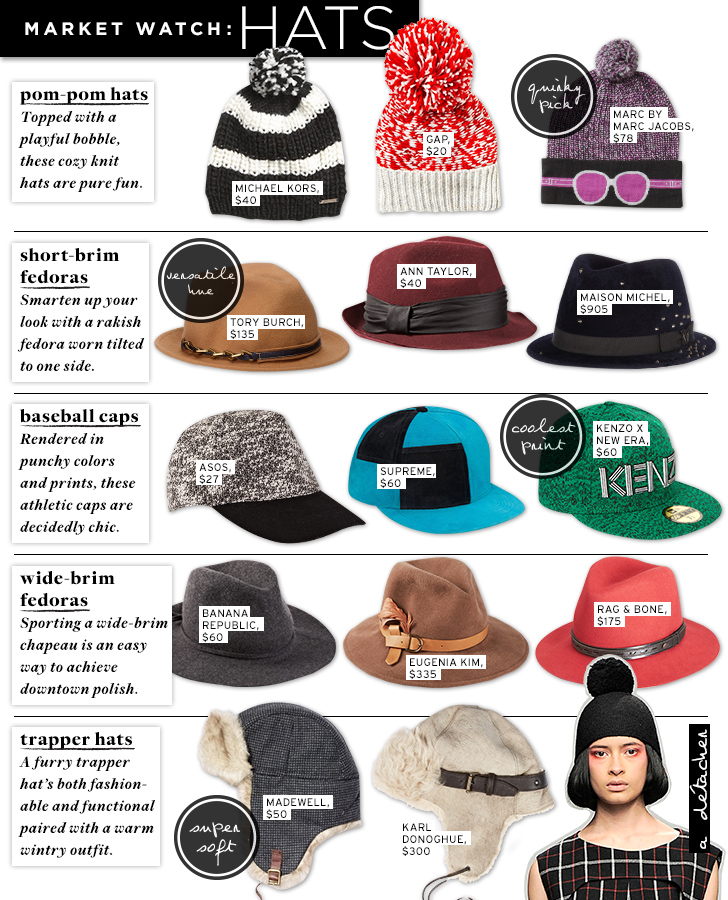 Aside from helping fend off the winter chill, a truly great hat can elevate your outfit and make it impactful on a whole new level. The idea is if it's good, it becomes great. If it's great, it becomes stunning, right? Plus, everyone remembers a hat! But if you're anything like us, when it comes to fashion you wear, well, many different hats. One day your sensibilities veer toward sporty chic, the next toward a more sophisticated look. That's why we've rounded up 14 equally stylish toppers to suit every taste in this month's Market Watch story. Keep reading for details on these chic chapeaux, and be sure to see how several celebs style their hats too!
Designer Inspiration
The headwear of choice at A Detacher's F/W 12 show was a pom-pom hat, and we particularly loved how the delightfully quirky topper accented a plaid tunic layered over matching pants, offering a whimsical approach to cold-weather dressing.
POM-POM HATS
A knit beanie adorned with a fuzzy pom-pom adds youthful charm to your look. It's a perfectly playful accompaniment to a graphic sweatshirt and blue jeans.
Our picks:
Michael Kors Two Tone Pom Pom Skull Hat ($40)
Gap Reverse Fair Isle Hat ($20)
Marc by Marc Jacobs Trompe L'oeil Beanie ($78)
SHORT-BRIM FEDORAS
Menswear-inspired trends are still strong this season, so style a dapper, short-brim fedora with a crisp oxford shirt tucked into tailored trousers. The resulting outfit smacks of understated cool.
Our picks:
Tory Burch Fashion Trilby ($135)
Ann Taylor Silk Twill Band Fedora ($40) in Rich Pomegranate
Maison Michel Sean Studded Felt Fedora ($905)
BASEBALL CAPS
In offbeat prints and rich textures, these aren't your average Little League baseball cap. Juxtapose a sporty chapeau with a sweet, feminine dress for an intriguing contrast.
Our picks:
ASOS 2 Tone Cap ($27)
Supreme Patchwork Suede Back Arc Hat ($60) in Turquoise
Kenzo x New Era Fitted Hat ($60)
WIDE-BRIM FEDORAS
A polished, wide-brimmed topper adds a dash of panache to a casual outfit, so team yours with a worn-indenim jacket and skater skirt for a chic weekend uniform.
Our picks:
Banana Republic Felt Panama Hat ($60) in Grey Heather
Eugenia Kim Bianca Leather-Trimmed Rabbit-Felt Fedora ($335)
Rag & Bone Floppy Brim Fedora ($175)
TRAPPER HATS
Designed for frigid weather, the classic trapper hat comes with shearling trim and flaps to keep your ears toasty. Complete your cozy look with a woolly sweater and corduroy skinnies.
Our picks:
Madewell Faux-Fur Hat ($50)
Karl Donoghue Shearling Trapper Hat ($180)—Tiffany Tse
A Detacher runway photo, courtesy of First View. 
TAGS:
Market Watch
, 
A Detacher
, 
Anna Taylor
, 
ASOS
, 
Banana Republic
, 
Eugenia Kim
, 
Gap
, 
Karl Donoghue
,
Kenzo
, 
Madewell
, 
Maison Michele
, 
Marc by Marc Jacobs
, 
Michael Kors
, 
Rga & Bone
, 
Supreme
, 
Tory Burch