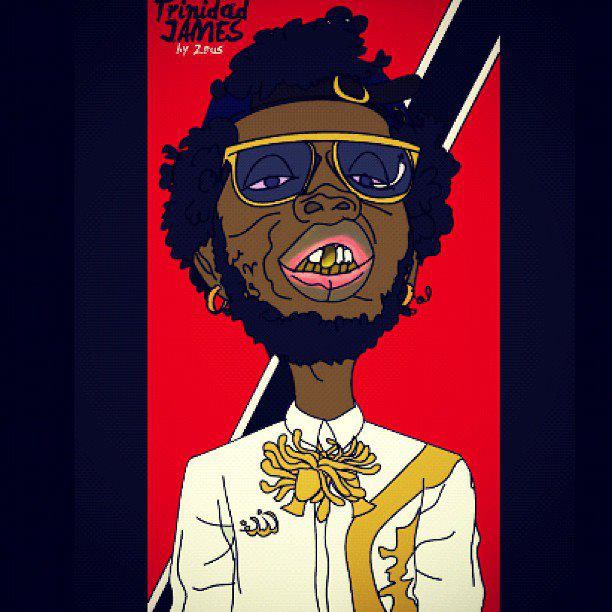 So there's this new rapper that's blowing up everywhere named Trinidad James & I have no idea what to make of him. My lil brother told me about him, showed me his video & I was so enthralled, to say the least, by his appearance that I barely paid attention to the music. When I referred to him all I could talk about was how crazy he looked & I try not to make a habit of being shallow, so I said let me give his music a chance. A few days later his song "All Gold Everything" comes on the radio but once again I'm distracted by every other word being bleeped out to focus on the song!!, which in my mind if you hafta bleep out that much it probably shouldn't be on the radio!
Anyways, those of you who don't know what I'm talking about check out the video & you'll see what I mean.
Now on one hand I think this man's lyrics are complete garbage & I have no idea why his lyrics are all over my IG & twitter. But on the other hand, you have other rappers like 2 Chainz, Lil B the based god & Soulja Boi that have never said a single intellectual thing on track but I blast their shit all the time! lol!
He might dress like a rich hobo & his lyrics may be simple but it's got him in the same space as Hip Hop Dons like Rick Ross & Diddy and on the lips of every who's who in music! Even if you're not a fan of his music you can't deny is that the song is catchy & the beat gets you moving. He's actually pretty humble about his rise to fame & his hustle proves hard work does pay off. Here's what he had to say about it
I gotta be honest, I don't see myself financially supporting his endeavors or having his ringtone on my phone but next time I hear "All Gold Everything" I'll probably be singing my favorite line "Don't believe me jus watch!!" lol! He's quite entertaining so I might as well!
Follow him @TrinidadJamesGG
Listen & download his mixtape Don't Be Safe here