Loafers.
Smoking slippers.
Dandy slippers.
Flats.
Whatever you call em, I love em!! lol! I'm not that into sneakers -I'll look at em but I'm not paying $150+ for shoes that I know wont be worn for their purpose i.e. Jordans that never see a basketball court! Nope, not I! Although I am the chick that will spend the same $150 on a pair of heels that I only wear once a year. Call it a contradiction, I don't care, I'm a heel girl! lol! The only problem with that is I'm not Coco, I can't wear heels all day, everyday, 365. My back would curse me out & I'm occasionally clumsy so I'd probably end up tripping over cords at the news station! On my heels-off days I like cute flats that make a statement & the classic loafers/smoking slippers fit the bill! They've actually been slowly creeping back to main stream but now they're everywhere!! Check out some higher end designs below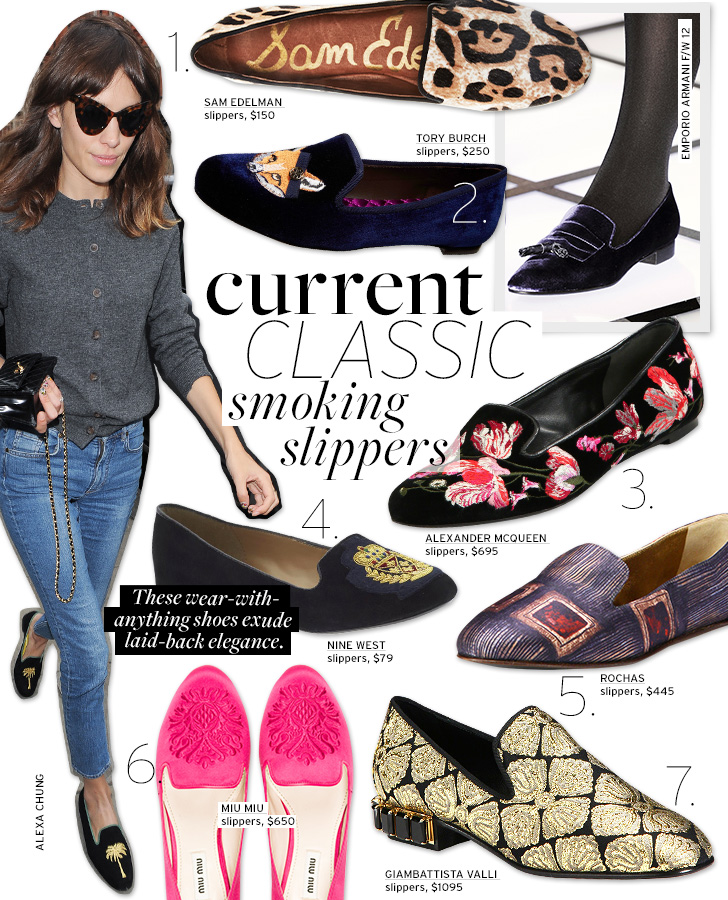 On The Street & Runway
Thanks to their surprising versatility, smoking slippers are a smart addition to your repertoire no matter what your sensibilities. Take Emporio Armani's opulent velvet rendition, made sophisticated with tassels and a short heel, from the F/W 12 show. They're perfect for offering androgynous contrast to a romantic outfit. These shoes also work well with more casual looks, as Alexa Chung demonstrated last month at London Fashion Week. The style savant's Penelope Chilvers Palm Tree Dandy Slippers ($396) added polish—and whimsical flair—to her cardigan and jeans. Ready to step into your own pair of slippers? Check out our selection now!
On The Market
1. Sam Edelman Alvin Smoking Slippers ($150) in True Khaki
Integrate smoking slippers into your weekend wardrobe by using them as an alternative to ballet flats. Sam Edelman's animal-print pair works well with cropped skinnies and a shrunken sweater for Sunday errands.
2. Tory Burch Fox Velvet Smoking Slippers ($250, 310.248.2612)
Tory Burch gives her plush slippers a playful twist with an embroidered fox face, and a short heel makes these shoes feel more luxe than lounge-y.
3. Alexander McQueen Flower Embroidered Velour Smoking Slippers ($695)
A floral motif injects these menswear-inspired slippers with a little femininity. Play off the colorful embroidery with a bright flared skirt.
4. Nine West Panto2 Slippers ($79) in Black Crest
Complement the preppy theme of Nine West's slip-ons, which are emblazoned with an old-school crest, by teaming them with a striped oxford shirt and Bermuda shorts—an ideal vacation outfit!
5. Rochas Graphic-Print Satin Smoking Slippers ($445)
These elegant smoking slippers come in an understated print that's suitable for your nine-to-five. Finish off the look with a crisp button-down and midi skirt.
6. Miu Miu Slippers ($650) in Red Hibiscus
These fuchsia Miu Miu stunners add a little pep to your tried-and-true neutrals. Coordinate them with a little black dress for a statement-making ensemble.
7. Giambattista Valli Metallic Brocade Stone-Heel Smoking Slippers ($1095)
Crafted from metallic brocade and sporting a bejeweled heel, Giambattista Valli's slippers are glamorous enough for a formal event. Try them with a tuxedo shorts suit for a sophisticated yet fun eveningwear look.—Tiffany Tse
Emporio Armani runway photo, courtesy of Imax Tree; photo of Alexa Chung, courtesy of Splash News. 
Perhaps you're like me & aren't about to spend $1,095 on a single pair of heels (no matter how breathtaking they are!) Here are some cute & affordable alternatives
Mossimo Valda Loafer from Target
Polka Dot Loafer from American Apparel
Festival Smoking Flat from Bakers
Rembold from Aldo
& there are many many more!!!  What are some of your fav  fall flats?