Yes ladies & gents you see the tweet!! The incomparable Miss Mykie is the new host of BET's live music video countdown show 106 & Park!!!!
I was first introduced to Miss Mykie  & her work during my college days. (Her music is DOPE, check it out here) She is a proud soror of  ALPHA KAPPA ALPHA SORORITY INCORPORATED & renown for taking major hits & "me-mixing" them into AKA anthems! As soon I crossed the burning sands & became a Distinguished Lady of AKA my line sisters & I ALL downloaded one of her songs for a ringtone!!! Love her!!! Congrats Soror, you're earned every blessing you received! A big GA SKEEEEEEEEEEEEEEE-WEE!!!! from ya girl Blondie! Keep "Raizin the bar" mama!
Now Miss Mykie isn't the only new face to host the livest audience on television! She's joined by Shorty da Prince, Paigion & Mr 106 & Park himself Bow Wow!!!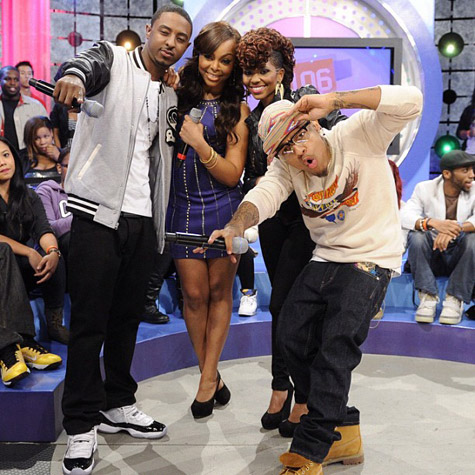 Paigion & Shorty da Prince were both radio hosts on HOT 107.5 in Detroit & Bow Wow, well-known for his rap career that started back in 2000, is currently signed to YMCMB with other artists like Lil Wayne, Nicki Minaj & Drake.
 Congrats to you all & I'm looking forward to see what you guys bring to the show!!