Here's another fall fashion DIY that'll add some girly flair to your fall wardrobe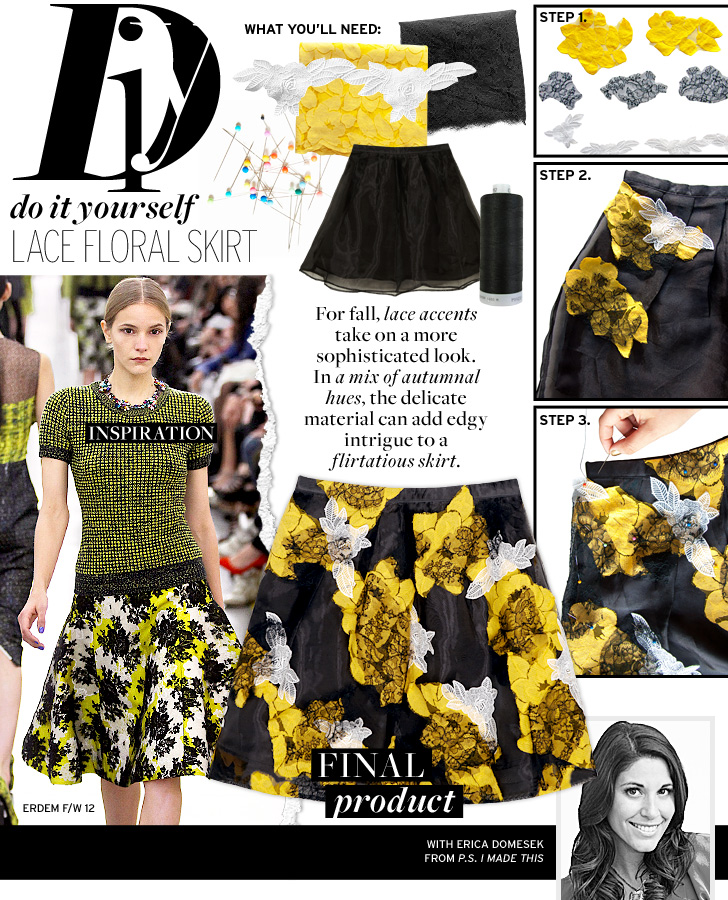 It happens every season: we love a trend so much, we'll stop at nothing to get the look, even if it means having to put our novice crafting skills to the test! Right now, that trend happens to be lace accents. We've been swooning over this delicate material for months, especially since it recently ditched its sweet connotations for a more mature, sophisticated look this fall. At Erdem, black Chantilly lace inserts and intricately placed appliques lent charming, pretty-girl dresses and skirts an intriguing edge. These pieces took a starring role on the runway, and we're confident they will make an equally memorable impression in your cold-weather wardrobe too, which is why it pleases us to show you how to make your very own Erdem-inspired, lace-embellished skirt in this month's Do It Yourself story!
The Inspiration
The ladylike Florette Embroidered Mikado Lace Skirt ($2600) was a collection standout at the Erdem F/W 12 show. Layered white and black lace embellishments temper the skirt's acid yellow hue, bringing a darkly romantic contrast to the feminine silhouette. Instead of creating an exact replica of the Erdem skirt, we decided to flip the design, starting with a black taffeta miniskirt instead and adding black, yellow, and white lace for textural interest. Per usual, we called on the D.I.Y. expertise of P.S. I Made This' Erica Domesek to help guide the way, and in just a couple of easy-to-follow steps, created one very covetable skirt indeed! Read on for all the necessary ingredients and directions, and be sure to tweet us a photo of your lace-embellished skirt!
Ingredients
–Skirt ($50)
-1 yard of each lace color ($20/yard, the color of lace is up to you, but we recommend black, white, and a bright color)
–Straight Pins ($4)
-Needle and thread
Directions
1. Lay out the black lace on a flat surface. Cut out about 20 small pieces (note: these can vary in shape and size) to place on the front and back of the skirt.
2. Repeat Step 1 for both the white and colored lace.
3. Using the lace cutouts, create a pattern on the front of the skirt, layering the pieces so they appear as scattered clusters. Secure using straight pins.
4. Once you are happy with the pattern you've created, use a needle and thread to sew each lace cluster to the skirt.
5. Flip over the skirt and repeat Steps 3 and 4 on the back.