School is back in session & you know what that means, fall is creeping up on us! I know, I know! I'm sad to see it go as well but I'm kind of excited to break out the boots, blazers, knit tops & cardigans! But back to the boots. Who What Wear gives us some insight on this Falls favored footwear.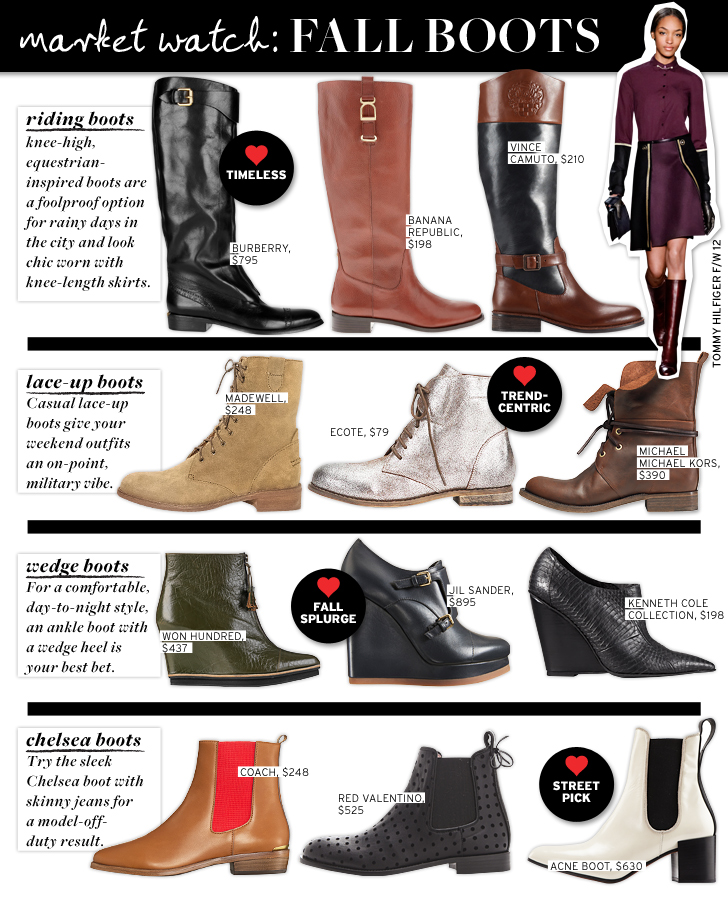 Now that a few weeks have passed since our preview of fall's most covetable accessories, it's time to start thinking seriously about the footwear you want to invest in for the season. While there are an abundance of notable shoe trends you should try over the next few months, we think stocking up now on an assortment of boots is the perfect way to get the ball rolling. We've done most of the hard work for you—rounding up the season's must-have styles, including a couple of wedged pairs and equestrian versions—for this month'sMarket Watch story. The only tough part will be deciding which of today's covetable 13 pairs you should buy. Let the boot shopping begin!
Designer Inspiration
Boots and fall fashion go together like Olympic gymnasts and glitter, so naturally designers showed a large selection of this essential footwear style this season. At Tommy Hilfiger, a slew of below-the-knee riding boots charged the runways and made an excellent compliment to the collection's uptown, equestrian-influenced clothing. Here, the Loafer Boots ($398, 212.223.1824), worn with a collared shirt and a leather panel skirt (sadly, both pieces were not produced), are the perfect nod to the collection's Town and Country theme, resulting in a polished city-girl look we can't wait to try this fall.
RIDING BOOTS
For those rainy days ahead, give your wardrobe some sophisticated polish with a sleek riding boot, as seen atGucci and Tommy Hilfiger. Wear them with a knee-length sweater dress belted at the waist for the office, or swap in tucked-in slim jeans and a button-up shirt for an afternoon errand run.
Our picks:
Burberry Leather Riding Boots ($795)
Banana Republic Willow Riding Boots ($198) in Brown
Vince Camuto Flavian Combo Boots ($210)
LACE-UP BOOTS
Whether they're metallic, worn-in leather, or suede, lace-up boots are perfectly suited for weekend jaunts around the city. To play up their combat boot heritage, go for a refined military-inspired look with acamouflage jacket.
Our picks:
Madewell The Suede Foothill Lace-Up Boots ($248)
Ecote Country Boots ($79) in Silver
MICHAEL Michael Kors Mocha Oiled Costa Addie Boots ($390, 1.866.709.5677)
WEDGE BOOTS
Comfort and chic come to a crossroads with the wedged boot, a foot-friendly style that works well for both day and evening. Leather versions hitting at or just above the ankle look pitch-perfect with a girly frock and opaque tights.
Our picks:
Won Hundred Touch Boots ($437, available September) in Green
Jil Sander Double Monk Wedges ($895)
Kenneth Cole Collection Tres Mignon Boots ($198)
CHELSEA BOOTS
The low-heeled Chelsea boot is sure to be the new model-off-duty favorite this season. Embrace their cool-girl insouciance by styling them with a pair of black skinny jeans, a basic tee, and a little leather jacket.
Our picks:
Coach Lucia Ankle Boots ($248) in Cinnamon/Carnelian
RED Valentino Gored Flat Booties ($525)
Acne Free Boot ($630, 212.625.2828) in Ivory
TAGS:
Market Watch
, 
Acne
, 
Banana Republic
, 
Burberry
, 
Coach
, 
Ecote
, 
Jul Sander
, 
Kenneth Cole Collection
,
Madewell
, 
MICHAEL Michael Kors
, 
Red Valentino
, 
Tommy Hiliger
, 
Vince Camuto
, 
Won Hundred
Perhaps you're like me & aren't thrilled about selling out  $500 & $600 for boots no matter how haute they may be (everybody aint bout that life! Some of us are balling on a budget!) then check out some similar styles for less on some of these sites
H&M
Zappos
Go Jane
Payless
Target