Fresh off the wires!!
If you're in ATL & surrounding areas this weekend then here's some events you might wanna hit up!!
**August 18**
Come out an enjoy the official Launch Party of Nyah Magazine. Nyah Magazine has highlighted some of the industry best and looks forward to showcasing their publication at this exclusive launch party. Located at the Chocolate Bar a posh venue in downtown Atlanta. Come experience the Best of Nyah.
Check out Nyah Magazine: Nyah Magazine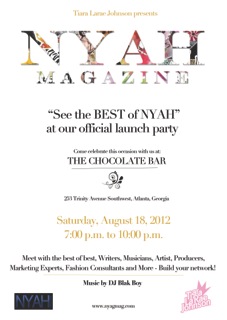 **August 18-19**
Finally, it's time for the 5th annual Atlanta Indie Fest! This year we'll be holding it at Terminal West in the King Plow Plaza on August 18th-19th for several thousand music and culture lovers. This year we'll have performances from Spaceghostpurrp, Chippy Nonstop, Rob Roy, Gangsta Boo, L.E.P Bogus Boys, Mach Five, NinjaSonik, DJ Burn One, BOSCO, TWO-9 and many more. The event is hosted by Greedmont Park, a pop culture magazine based out of Atlanta.
Tickets: http://atlantaindiefest.eventbrite.com
More Info: www.AtlantaIndieFest.com
About Founders: www.GreedmontPark.com
Media Relations:
Sandrine Phay, HS8 Agency
sandrine@hs8agency.com
Vendor and Sponsorship:
Eunice Wanjou, HS8 Agency
eunice@hs8agency.com
Note: Please do not contact either email address above or reply to this email regarding artist booking.
©2012 HS8 | 1500 Arbor Dr – Atlanta, GA 30096