I'm a HUGE fan of Who What Wear!!! If you're a fashionista & haven't heard of them YOU ARE MISSING OUT!!! lol! They always have some of the best fashion advice, celeb style stalkers, stylist commentary, DIY projects & more!! In the past I just emailed some DIY to other artistic divas who might use them but I figured why not share them with you guys too!  This is the first of many more DIY features on Blondie's! Enjoy!!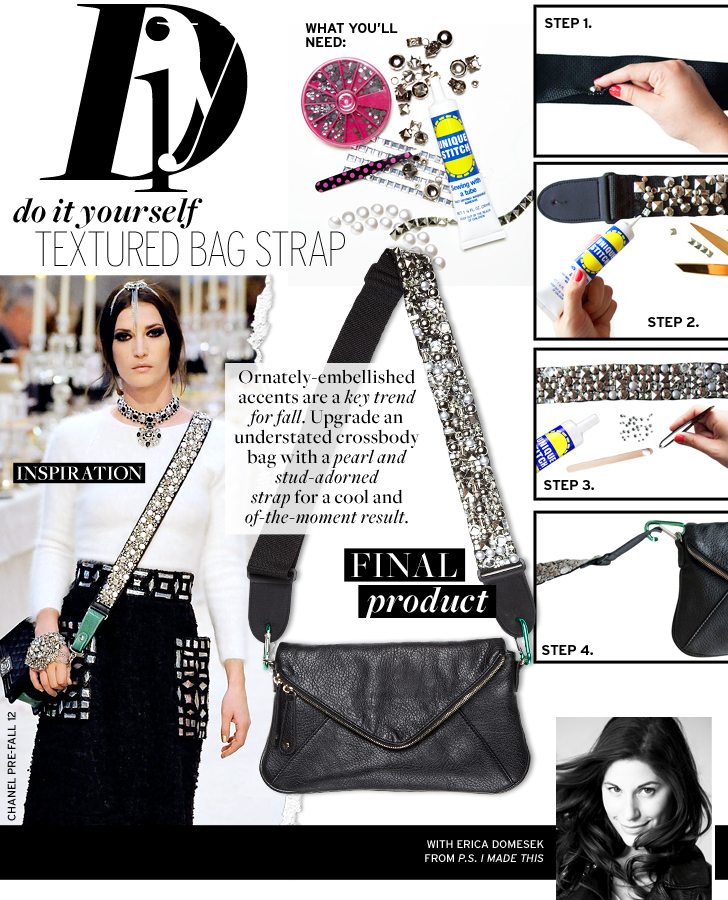 The financial commitment that comes with purchasing a new bag every season can be, well, off-putting to put it lightly, especially for style-minded ladies with a wardrobe budget! Happily, we found the perfect solution to our inevitable handbag woes: the removable embellished strap. We can't take all the credit, though; Karl Lagerfeld showed us this brilliant accessory idea at his Paris-Bombay Pre-Fall 12 collection for Chanel, and we've been infatuated with the textured strap ever since. With metal-embroidered detailing, the strap instantly upgrades your tried-and-true carrier, giving it a cool and modern look that will take you stylishly through fall. Accordingly, we are truly excited to show you just how easy it is to craft your very own Chanel-inspired bag strap in this month's Do It Yourself project!
The Inspiration
The Flap Boy Bag with Hand-Embroidered Strap ($6900, 310.278.5505) was just one of the many decadent accessories featured in the Chanel Paris-Bombay Pre-Fall 12 show, but for obvious reasons it has remained our favorite piece from the collection. Melding the storied brand's classic quilted design with the punk rock spirit of the metal embellishments, the bag manages to be both very chic and utterly cool-definitely a season must-have!
All this lusting after one bag got us thinking about the ways in which we could make our own, so we called up Erica Domesek of P.S. I Made This to help guide us through the process. We're happy to report that with Domesek's easy-to-find ingredients and step-by-step instructions, you can create a covetable Chanel-inspired bag and still have enough money left over to snag all of your fall clothing essentials, making it a win-win!—Jessica Baker
Ingredients
–Flap Bag with Removable Straps ($39)
–Rock Steady Guitar Strap ($6)
–Collins Unique Stitch Fabric Glue ($6)
–9x9mm Studs (from $5)
–20mm Flat Back Rhinestones (from $8)
–Pearl Beads ($12/yard) (Per Domesek, feel free to pick whatever style you like.)
–Tweezers ($1)
-2 Carabiners
Directions
1. Lay the guitar strap flat on a large surface.
2. Randomly place the various studs, rhinestones, and pearl trim so that they cover the entire strap.
3. Once you are happy with the placement, use tweezers to secure the stud accents, then glue the rhinestones and pearl trim in place. Wait an hour or until completely dry.
4. Once the strap is completely dry, use carabiners to secure the guitar strap to your bag.