Majority of the twitterverse is tuning in Monday nights to VH1 for Love & Hip Hop Atl and are enthralled with ridiculous antics of the characters chosen to represent the Peach State. I say characters because if you have eyes you can tell 99.9% of the show is "enhanced" (aka fake). Regardless of their terrible acting skills & staged drama I, like many of you, escape to this land of ratchetness as our guilty pleasure.
Speaking of ratchet I want to weigh in on the crazy ass drama that surrounds the most popular characters Joseline & Stevie J & MiMi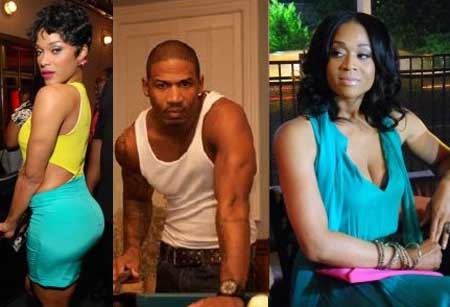 but I wanna talk about Joseline. That girl came on the scene like a tornado with her thick accent, Rihanna-esque appearance & willingness to go all out for her man. She quickly became the one you love to hate & hate to love! Why? Because that man that she's going so hard for, Stevie J, has been involved with MiMi for like 10 years! The spitfire Latina is the breakout star because she's the other woman & proud of it!!
*courtesy of PardonMyBrainDOTcom
There seems to be a lot of attention given to the side chick lately & I'm not sure why. Infidelity is nothing new & majority of the population has been the side chick, whether they knew it or not. *Before you say "Not me!! I've never been a side piece, I'm the main course boo!" think about this: Do you have a platonic friendship with a guy that their significant other is suspicious of? *Side Chick* Do your friends tell you about their relationships & ask for your advice *Side Chick* & of course the most known side chick is getting involved with someone who is already in a situation with someone else. *Side Chick* Now some of y'all would call the first 2 examples a third wheel. SO!!! If you're in a relationship in anyway of which you're not a main character YOU ARE A SIDE CHICK!!!
My opinion, at the end of the day people just need to stick with what they got at home & keep their business to themselves! Seeing as how most folks aint gone do that here are my side chick guidelines:
1. If you trust your partner TRUST THEM & let it go!!! If they say the friend is just a friend leave it at that.
2. If you don't trust your partner & believe they are involved with someone else you should remove yourself from the equation. AIDS IS REAL!!! & it's too many diseases out there to mess around with the unknown! Anyone who would put your life in danger doesn't deserve to be a part of it.
3. If you're going to confront the guilty party DONT POINT THE FINGER AT ONE PERSON!! "It takes two to tango" so if you're gonna blame somebody them blame both.
Does that mean I side with Joseline over MiMi? No!! I think both of them are crazy- MiMi for staying with someone who emotionally abuses you & has been taking advantage of your love for so many years; Joseline for mixing business with pleasure & continuing when it was confirmed he was not fully available. Now you have two broken hearted women scorned  (& possibly burning) from an asshole who will probably do it again to the next chick. SMDH! It's lie that you can't help who you love. When "sparks fly" between you too & flames start to burn the house down yo ass needs to be smart enough to get out or stay & get burned!
Now there are always 2 sides to every story & maybe you're cool with being the side chick. Well if you're gonna do it here's how to do it right!
"Side Chick Handbook"
Follow the FUNarious guys @FUNarios @comedianlonnie @ItsKJLee
"Shit Side Chicks Say"
Follow him @Dukk2
& here's some Side Chick theme music
Aaliyah "If Yo Girl Only Knew"
 Xscape "My Little Secret"
There is such a thing as a "Side Dude"! Here's something for them too
Carl Thomas "I Wish"
Positive K "I Got A Man"
Or maybe you like to share
Mokenstef "He's Mine"
Brandy & Monica "The Boy is Mine"
My own mother told me if she was a young, single woman now she'd stay single cause it's too much!! My parents will have been together 30 years this December & all I want is that same kind of love, honesty and respect from my significant other. & I don't know about y'all but I'm too selfish to share & I want him to feel the same way! Is that too much to ask?!! If I never find someone who can handle all that then I guess just be an old spinster & that's fine by me! Cause just like Tyler Perry's play, I can do bad all by myself.