Not sure what to do this weekend? Well look no further!! Here's your invitation for the place to be Saturday!!
You are cordially invited to attend:
Londyn Lyna Presents: The Inquisitor Showcase
Saturday, May 12, 2012 9:30 PM until Sunday, May 13, 2012 12:00 AM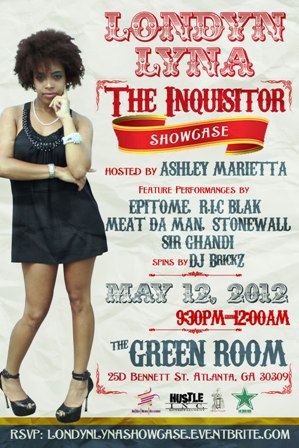 Londyn Lynà Presents: The Inquisitor Showcase
Contact:                                                                                                                      
For Immediate Release
Sharde Monet McCoy
Media Relations Specialist
Nu Day Media Relations
sharde@nudaymediarelations.com
678-671-0090ATLANTA – London Lynà will be live in ATL Saturday, May 12, 2012 as she headlines the highly anticipated 
The Inquisitor
 Showcase. Hosted by radio host and media personality, Ashley Marietta, this showcase will highlight the top songs from Londyn Lynà's upcoming EP "The Inquisitor" including the hit single and music video debut for "Thrill of the Chase."
This event will give fans and new listener's exclusive access to the live experience of Miss Lynà's innovative musicianship. Accompanied by a live band, guests will also be enticed as Londyn Lynà covers some of her favorite songs by high profile artists who have inspired her throughout her musical journey.
Attendees will also enjoy poetry, rap and spoken word by guest performers, have the opportunity to meet/greet and take photos with all performing artists as well as receive gift bags which will include Londyn Lynà's new EP, "The Inquisitor."
The Inquisitor showcase will begin promptly at 9:30pm at The Green Room: Actor's Lounge in Buckhead. Complimentary Moscato for all guests will be served.
About Londyn Lynà
While creating her own "humanitarian" musical genre, Londyn Lynà dedicates her life to working towards being a Music Therapist for children. As a music therapist and a well-rounded musician, she will teach children how to be expressive about their life through positive musical influences. Londyn Lynà began singing her heart out at the mere age seven. At age nine she began mastering the skill of playing the piano and writing herown lyrics-she's been a well-rounded musician since she was 12. Londyn Lynà is currently working with producer Da Shii 1 on her new project featuring the hit single "Love Me Back."  Be sure to follow Londyn Lyna on Twitter@LondynLyna.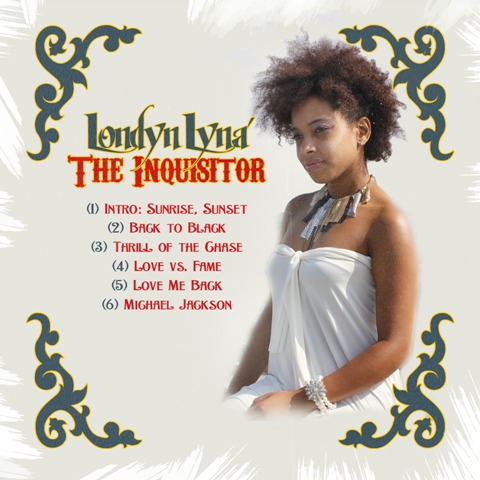 ###
The Green Room Actors Lounge

25D Bennett St NW

Atlanta, GA 30309
(Located behind Frank Ski's Lounge)
& check out London's latest single "Love Me Back"
[youtube http://youtu.be/rCetJ9fCGBo]